Today I selected some of the most inspiring and beautiful graduation party invitations for you: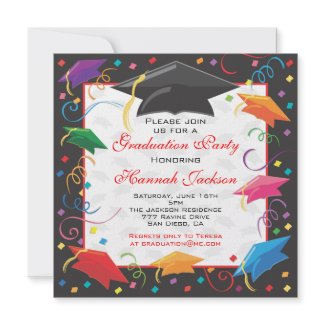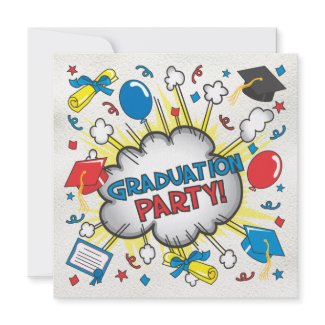 left:
Graduation Celebration Party Invitation Card
by
McBooboo
Modern yet Elegant Graduation celebration party invitation with colorful caps and tassels, confetti, streamers and a framed background of silhouetted graduation caps. Customize with your own info.
right:
Comic Book Pop Art Graduation Party Invitation!
by
McBooboo
For the graduate that wants something fun, different and original! Comic book inspired graduation party invitation with cloudburst explosion of caps, diploma, certificate, balloons and confetti. The back holds your party information. Hand drawn illustration by McBooboo.
left:
Graduation Beach Party - Invitation in a Bottle -
by
sharonrhea
This will make a popping invitation for a graduation beach party or delete the cap and you have whatever you want! Play with the paper stocks to suit your style and price range; yet, I always use Metallic Ice for the nice shine. Zazzle offers quantity discounts, so have a big one ... and enjoy. Sharon Rhea Ford
right:
Graduation Pool Party - SRF
by
sharonrhea
I designed this on a square size, but have noticed large orders on the large rectangular size, so .... as is the case always with Zazzle, it's up to you! Customize it to suit your needs. It's a template. Try out the different paper stocks. I have it on Metallic Ice for the shine; yet, white looks great too ! Prices vary, but Zazzle does offer generous quantity discounts ... : ) I'll offer a few versions of this. Thank you and have fun ! Sharon Rhea Ford, NBCT-Art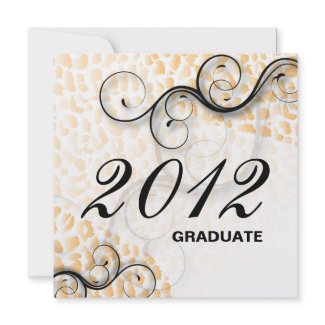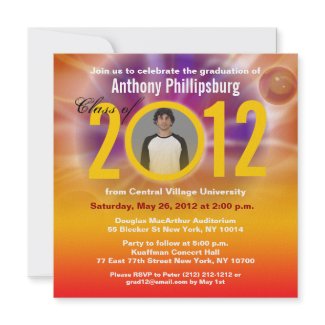 left:
Stylish Leopard 2012 Grad Announcement Invitation
by
OLPamPam
Celebrate your graduation with this stylish orange, black & white leopard print with swirls 2012 graduation announcement and party invitation. Your class of 2012 will love receiving these invitations to your year end party.
right:
Class of 2012 Graduation Invitation Orange Planet
by
pixibition
Class of 2012 Graduation Invitation Orange Disco Planet
Invite your friends and relatives to graduation party with this graduation announcement!
Customize this card by replace with your image and pick your choice of colors on background
Design by Poramit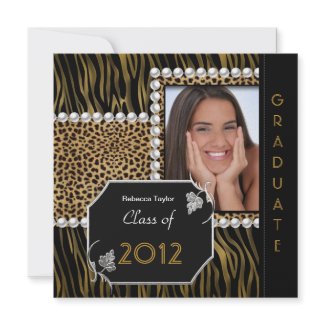 left:
Graduation Party Gold Black White Leopard Zebra
by
Zizzago
Graduation Party Gold Animal Print Black White Leopard Zebra Silver Girl Grad Graduation Party Graduate Party Elegant Party, Celebration . Customize with your own details and Photo.
right:
Zebra Stripe Photo and Ribbon Graduation
by
happygotimes
Pretty Zebra stripe photo with bow graduation party invitation or announcement. Customize text on both front and back of this invitation as needed. Upload a favorite photo of your grad to share with family and friends.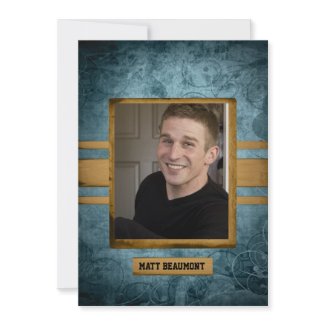 left:
Blue and Gold Grunge Photo Graduation
by
NoteableExpressions
This cool grunge graduation announcement is a great special look for your teen. The background is blue with a grunge look. There are three gold stripes and a gold grunge frame for a large photo of your teen. Just below the photo is a lace for your name. Your text and another photo goes on the back. Just add your picture and alter the text and you are all set!
right:
Graduation Party Invitation
by
annevisdesign
A cute yet stylish graduation party invitation. Congratulations!