Binders have a sheer endless use and are a beautiful personal gift, whether you are looking for an office binder, a coupon binder or a binder to store your wedding pictures, recipes or music sheets ... I selected some new artistic design binders on Zazzle today: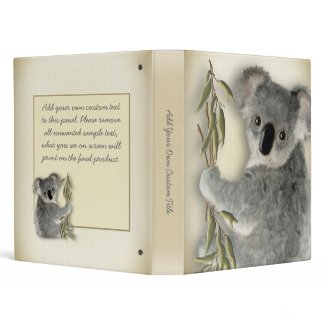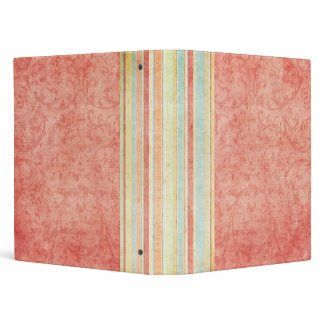 left:
Cute Koala
by
Specialeetees
This adorable cute fluffy koala has his own supply of eucalyptus leaves so he's chilled and happy to keep you company all day long! A sweet digitally painted design to make sure you're remembered, not forgotten!
right:
Rosey Bound with Stripes Any Use binder
by
KaleenaRae
Rosey design Bound with Stripes any use binder.
left:
Custom Lavender Floral Wedding Photo Album
by
weddingcafe
Personalized Vintage Lavender/Purple Floral Photo Wedding Album-This beautiful custom lavender photo wedding album features a lavender floral background with a lavender ribbon running through it and a heart hanging from the ribbon with two white doves and a picture frame for you to add your own photo.
right:
Stylish Floral
by
sunnysites
A beautiful and original art binder.
Customize with your own text and you get a great personal gift, for instance for a dream journal for your girlfriend or recipes for your Mom!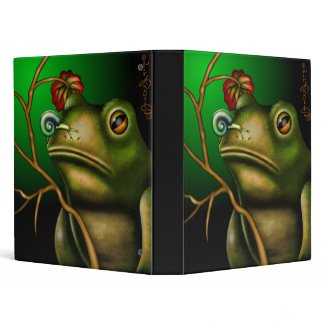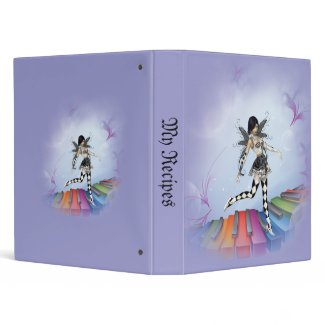 left:
The Toad And The Snail II
by
TrixieTeddy
The Famous Mr Toad and his Friend The Snail. A funny, serious looking toad behind a branch with a red Autumn leaf, with his friend, a turquoise blue snail, crawling on his snout. A vivid green background creates the impression that he's in a lush green forest. A hunourous and cute gift for frog and toad lovers.
right:
Musical Keyboard Faerie Vignette
by
Fantasy_Gifts
Musical Keyboard Faerie Vignette She's colorful and fun, this Musical Keyboard Faerie is skipping across the brightly colored keys of the fantasy keyboard, great for music lovers!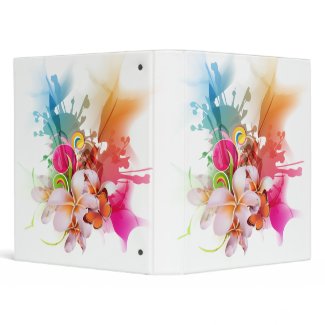 left:
AFD 1 Binder
by
Ronspassionfordesign
A beautiful artistic design binder for any purpose.
right:
Whale
by
bartonleclaydesign
Whale is the common name for various marine mammals of the order Cetacea. The term whale sometimes refers to all cetaceans, but more often it excludes dolphins and porpoises, which belong to suborder Odontoceti (toothed whales). This suborder also includes the sperm whale, killer whale, pilot whale, and beluga whale.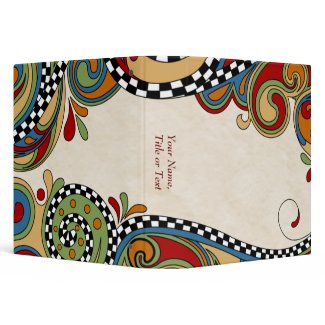 left:
Checkerboard Whimsy Affirmation Binder
by
Inspiration_Station
"Stay in a positive vibration while you organize your special notes, papers and journals in this charming Checkerboard Whimsy Affirmation Binder. Checkerboard Whimsy is a delightful and creative design of circles, swirls and teardrops in deep rich colors of red, blue, green, golden tan and orange accented with ribbons of black and white checkerboard. For those that practice the Law of Attraction and positive thinking, you can use the sample saying or you can change the text to read any quote, saying or affirmation you choose. Using this beautiful design along with the affirmation of your choice will serve as a reminder to help keep you on track in achieving all your goals and dreams and live the life that you desire. Select the products that you use most in your daily life and let them serve as inspiration and motivation for you to stay focused and on track to achieve your greatest personal growth and development possible."
right:
Modern Floral Design Picture Frame Binder
by
annevisdesign
A beautiful romantic binder in retro style with polka dots. Suitable for wedding pictures, but also for a holiday or mother's day ... You can customize the image and texts.