Mousepads are a beautiful way to bring color into your life. Every artwork brings it's own atmosphere and colors.
I chose some artistic designs for you today to surprise a loved one:
left:
Frog Eye
by
Bebops
This mousepad features a close up of a green frog's eye as she floats in the pond on a hot summer day. Her iris is an incredible pattern of gold and yellow. The pure black oval pupil in the center reflects trees in the distance.
right:
Love and affection mousepad
by
pics4merch
Show your affection for your love with this 'ladybug on flower' mousepad design.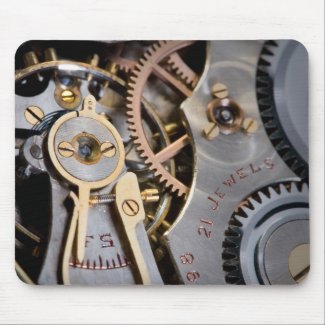 left:
Detail of a pocket watch
by
The_Edge_of_Light
Detail photograph of a pocket watch showing the gears and mechanisms. The metal is gold and silver colored. The etching says 21 Jewels.
right:
"Fairy Jumble" Mousepad
by
artbyjaz
Artistic fairy mousepad.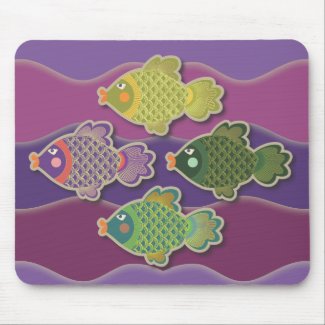 left:
Go Fish
by
Tees2go
Mousepad featuring colourful fishes swimming in the wavy purple sea.
Rated G Report violation
right:
Art Deco 2
by
animotaxis
Colorful art deco, art nouveau mosaic tiles and stripes.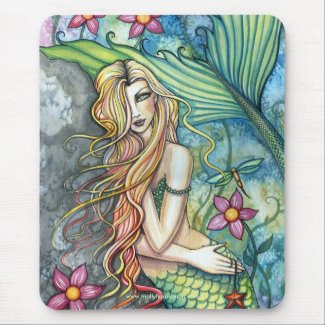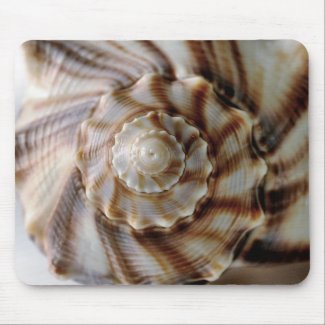 left:
Beautiful Mermaid Mousepad by Molly Harrison
by
robmolily
'Fresh Water Mermaid' - From the Fantasy Art of Molly Harrison
right:
Spiral Shell Mousepad
by
artinphotography
Beach lover? Sea shell lover? Pretty up your office space with this mousepad featuring beautiful color photography of a creamy brown and white seashell spiral. Great for beach and ocean lovers!
left:
Kittens Mousepad
by
sunnysites
We all know that cats love to catch a mouse ... :-) A cute gift for a cat-lover!
right:
Wave Spiral Fractal Art Mousepad
by
annevisdesign
Mousepad with original spiral fractal art in the shape of an abstract wave in beautiful colors.