Are you looking for gift for someone with cooking as hobby? You may find some inspiration from the binders I found today: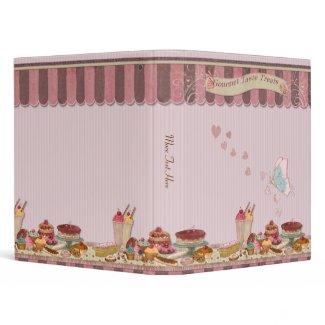 left:
Bakery Boutique Cakes & Patisserie Binder
by
Spice
Sweet binder or album for patisserie, bakery and other sweet treat businesses or cooks who love to create fantastic desserts. It features a delicious display of cakes, candies and ice cream in pink and chocolate with a touch of aqua. Customize text areas.
right:
Recipes binder
by
QuattroDesign
A lovely recipes binder for all your special family recipes. A wonderful birthday gift for any cook or mothersday. Can be fully customized to make it an unique gift.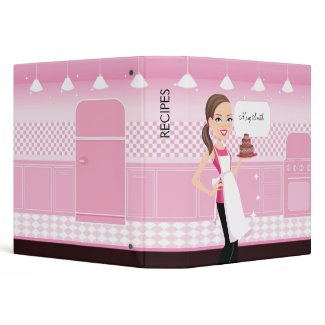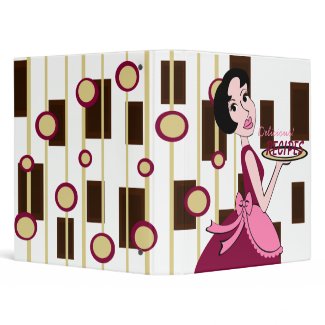 left:
Bakery Girl Recipe Binder Illustrated
by
ArtbyMonica
Illustrated bakery recipe binder with a detailed illustration of a beautiful brunette girl, holding a chocolate cake. Is easy to customize your name on the binder!
right:
Snazzy Recipes
by
trennea
A great way to store your most delicious recipes!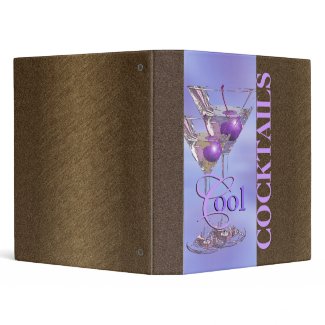 left:
Cocktail recipe summer pub gift
by
mensgifts
Beautiful cocktail liqueur and mixer binders with a background infused with pink, purple, lavender and mauve, which has two martini glasses on the left edge with bright purple cherries in them. The graphic is bordered by a vibrant chocolate brown band, which has the word "Cocktails" in a pale pink. The word "Cool" appears over the stem of the martini glasses. WORDING ~ Change the wording to reflect whatever you prefer. CUSTOMIZE IT ~ Feel free to change the colour / size and style of the font; and to add additional templates, or delete those not required by using the "customize it" button. IDEAL FOR ~ Men as "pub gifts" on their birthday; for restaurants, hotels, mixologists; pubs; saloons and any business in the hospitality or entertainment industry that serves delicious mixers or has a "happy hour" menu. If you are a barman or work with spirits and beverages, this trendy and unique album is ideal.
right:
Old World Olive Oil Vintage Retro Customizable
by
cowboyannie
Vintage olive oil advertising label from Nice France features European woman cooking with herbs and spices and virgin olive oil. Personalize it with your own text on spine.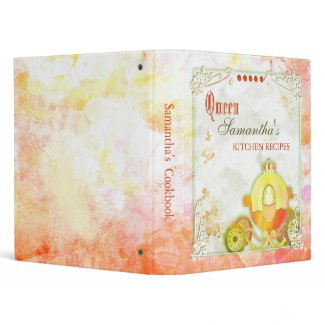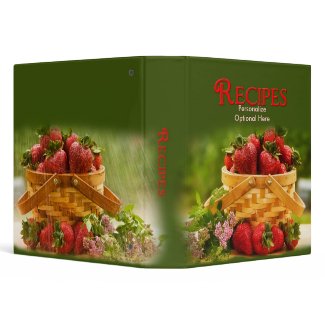 left:
Queen's Carriage: Recipe Binder
by
daphne1024
Lovely and beautiful Queen's carriage designed on a custom recipe binder. Cute and special gift for your mom, wife or friends! Very easy to edit the wordings, typefaces, colors, and sizes of all the text when you personalize the product.
right:
Recipes Strawberries Binder
by
TrudyWilkerson
Basket of strawberries on front and on back but raining on them - Personalize and make it your own.
left:
Dotted Design Binder
by
sunnysites
Dotted design binder, a beautiful binder for your recipes.
right:
Retro Romantic Binder
by
annevisdesign
A beautiful nostalgic binder. You can replace the horse image with your own image if you like!
Also take a look at a previous post with
inspiring binders
!