Bookmarks: a unique gift for anyone who loves reading!
On Zazzle they fall into the "business cards" section, and to be honest: they are also a great way to promote your business, especially if you have clients who love to read.
Today I selected some that I found very beautiful and inspiring.
And yes, of course many cats ... that goes without saying ... :-)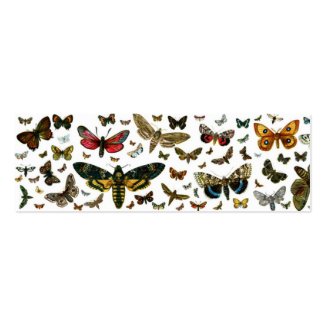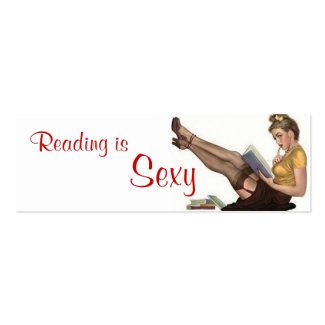 left:
Colorful Butterflies Antiquarian Image Bookmark
by
MyBookmarks
Colorful Butterflies Antiquarian Image Bookmark, Collage of Vintage 19th Century Book Lithographs
right:
Reading is Sexy - Bookmark
by
lkaiser03
Reading is Sexy - Bookmark, two sided bookmark.
left:
Big Ben Bookmark Business Card
by
EnglishGardener
Bookmark with photo of Big Ben with blue sky in background, London, England, UK
right:
(Customizable) Bookmark for Bookworms
by
aura2000
One side looks like a book shelf, the other side like the spine of an old book, on which you can insert your contact data, in case you might leave it somewhere.
left:
Musical Bengal cat bookmark
by
deemac1
Seal mink snow spotted Bengal kitty cat lays on the staff lines of a music score book mark for book, cat and music lovers
right:
Grey Tabby
by
sunrisern
Beautiful grey tabby kitten gazes up with green eyes. Bookmark is a 1 x 3" profile card. Bookmark can be personalized with your name on the back.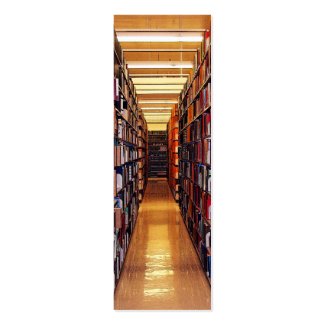 left:
Library Stacks Bookmark
by
Bebops
This bookmark takes you on a walk down a long aisle of books in the stacks of a huge library. The bright lighting reveals book spines in a kaleidoscope of colors: red, green, blue, black, white, gold, brown, purple. The symmetrical angle creates a geometric design that seems to lead to infinity. The reflections on the freshly waxed floor contribute to the overall pattern. The image is repeated on the reverse side.
right:
Colorful Bookmark
by
sunnysites
Artistic design bookmark, you can add your own text.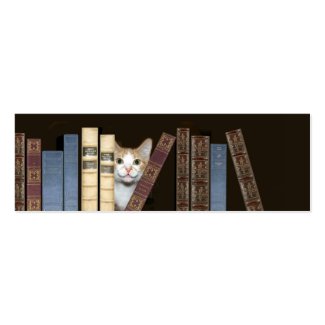 left:
Medicinal Collage Bookmark
by
FirstNightDesign
Fully customizable Medicinal Collage Bookmark.
right:
Cat and books bookmark
by
deemac1
Orange and white tabby cat peers out from books bookmark. Great gift for any reader, librarian or teacher.