Really cute small gifts: dishwasher magnets!
Find the best new designs here: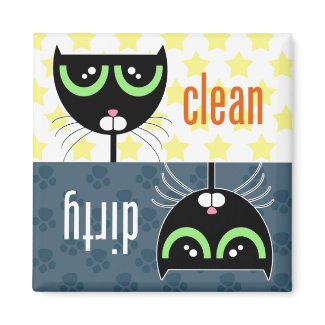 left:
Kitty Dish Washer Magnet
by
kazashiya
Get this kitty dish washer magnet is digital illustration. They are calico cats and looking very Japanese. The lime green for "clean" and sky blue for "dirty".
right:
Dirty / Clean Cat - Magnet
by
gabycat
I wanted my own Dishwasher Dirty/Clean magnet so I did this for myself and wanted to share it with all. A cute black kitty design: dirty paws and golden stars - no more wondering if your dishes are done or not! ;)
Note: designed for and looks better as a square magnet.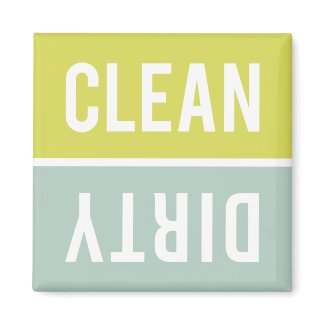 left:
Dishwasher Magnet Clean | Dirty - Green Blue
by
RandomLife
Chartreuse green and light aqua blue dishwasher magnets. Just reverse or flip the magnet to clean or dirty on the front of the dishwasher to inform your family about the dishes inside. Simple modern design.
right:
Cute White Coat Bulldog Cartoon - Blue
by
JKLDesigns
Cute White Coat Bulldog Cartoon - Blue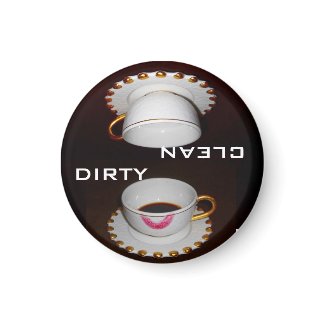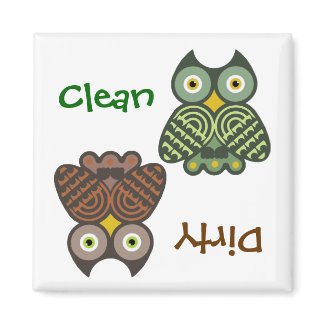 left:
Clean Dirty Dishwasher Sign
by
Rebecca_Reeder
A clean and dirty dishwasher magnet so you never have to wonder if it's time to wash. Design shows gold and white sup and saucer with a big lipstick stain on the dirty coffee cup.
right:
Cute Owls Clean Dirty Dishwasher Magnet
by
Hannahscloset
Whimsical dishwasher magnet done in white, with cartoon graphic owls in green and brown. On one end of the magnet is a green owl with the green text reading clean, on the other end is a brown owl, with brown text reading Dirty. Fun way to tell if your dishes are clean or dirty, and makes a cute gift idea.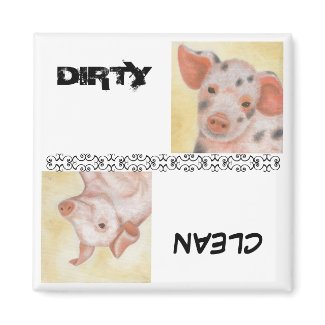 left:
Pretty Polka Dot Dishwasher Magnet
by
DizzyDebbie
Stylish dishwasher magnet, in a turquoise and white polka dot pattern, and a gray and white polka dot, with the gray text reading Clean, on one half of the magnet and aqua text reading dirty, on the other half. Pretty graphics of a turquoise colored ribbon, across the middle is decorated with a pretty satin ribbon flower. Makes a great hostess gift.
right:
Clean and Dirty Piggie Dishwasher Magnet
by
PainterPlace
A clean pig and a dirty pig will tell everyone the state of the dishes.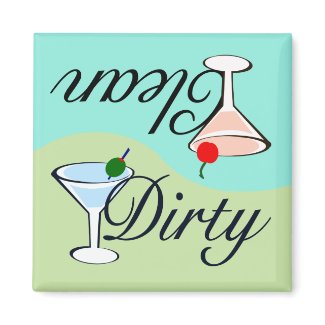 left:
Dirty Martini Dishwasher
by
sheezl80
Clean or Dirty Martini dishwasher magnet. Place on dishwasher and flip for clean or dirty dishes.
right:
Cutie Cartoon Dishwasher Magnet
by
reflections06
Great little "clean/dirty" dishwasher magnet!
Also take a look at a previous post with magnets or one with photo frame magnets, in which you can add your own picture!