With the weather in most parts of the Northern Hemisphere turning gorgeous, it is an excellent time to throw a pool party! A relaxing time with friends and family around the pool, a (vegetarian) BBQ, some great music ... all ingredients for fun. Today I selected some inspiring invitations cards for a pool party for you. Not just for kids, but also some for any age: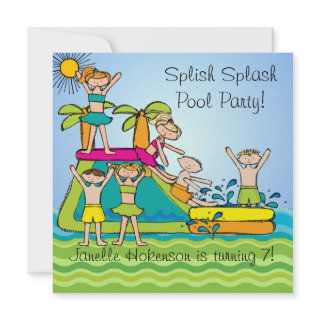 left:
Splish Splash Pool Party Custom Birthday Invites
by
kids_birthdays
Kids having a pool party will love these colorful and oh so cute Splish Splash Pool Party customizable birthday invitations. Features a big water slide, kids, water.
right:
Pool Party Invitation
by
sunnysites
A fresh and elegant aqua style pool party invitation, fully customizable.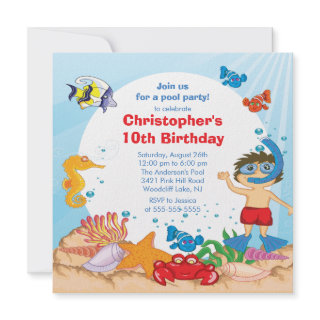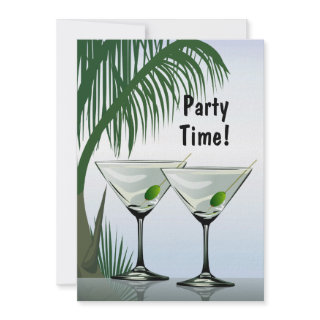 left:
Under the Sea Pool Party Birthday Invitation boy
by
celebrateitinvites
Start your party off right with our unique scuba dive under the sea Pool Party Birthday Invitation for a boy birthday party. This invitation features a sea scene with a cute brunette scuba diving boy and fish, a sea horse, crab & sea shells. Perfect invitation for your boy swimming kids birthday party.
right:
Martini Cocktails Party Tropical Invitation
by
windyone
A tropical graphic design of Martini Cocktails on a party invitation. Fully customizable.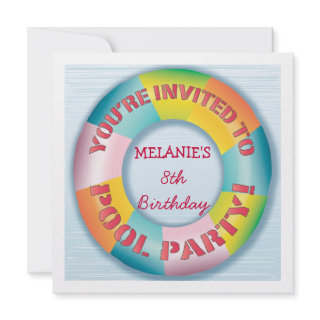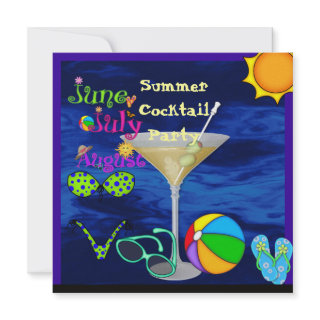 left:
Birthday Pool Party Colorful Fun Float Invitation
by
kat_parrella
A colorful inner tube pool float is stenciled with the invitation to a birthday celebration pool party on the front - with room for your customized party details on the back.
right:
Summer Fun Cocktail Pool Party Invitation
by
PersonalCustom
Great Invitation for any summer event! Yellows and blue...fun cute and trendy invitation for the hot weather.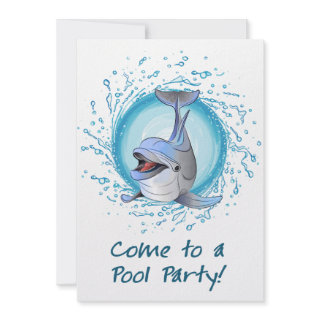 left:
Pool Party - SRF Personalized Invitation
by
sharonrhea
Delightful invitation card with a sunbathing girl illustration.
right:
Laughing Dolphin in Splash Circle Pool Party Personalized Announcement
by
InvitationsGalore
Creative & professional looking invitations for every occasion. These paintings and illustrations of various scenes at the beach or pool will help set the tone on the invitation you send out. Whether it's a picture of a sandy beach by the ocean, the rocky shores of a sparkling lake or the fun of a swimming pool and diving board, your guests will get in the mood for a fun and relaxing summer day near the water just as soon as they receive the invitation. Customize with the information for your event.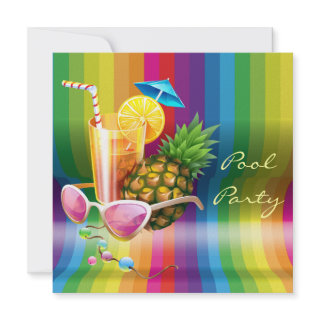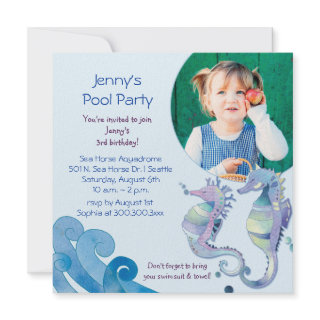 left:
Rainbow Wave Tropical Cocktail Pool Party Personalized Invitations
by
GroovyGraphics
Beautiful colorful rainbow wave Pool Party invites with a bright and colorful realistic tropical cocktail vector illustration with sunglasses, beads, pineapple and a drink with umbrella and straw. Elegant and stylish invites, easily customizable for all your summer events.
right:
Summer Pool Party | Photo Birthday Party Invites
by
daphne1024
Whimsical illustration of sea horses designed on custom Photo Birthday Pool Party Invitations. Adorable & sweet invitation design for your precious child's summer birthday party! All the text and the picture are fully customizable.
Also take a look at a previous post with 4th of July and BBQ invitations!