An extra large summer sale edition with the most inspiring and artistic magnets for you today. And: Today only:
50% off buttons
! Use code ZBDAYFLAIR50*
left:
Vintage Travel Poster, San Francisco, California Refrigerator Magnet
by
YesterdayCafe
Vintage illustration United States of America travel poster or luggage label from the city of San Francisco, California featuring a cable car on the California and Market Street line and the Bay Bridge in the distance. I left my heart in San Francisco.
right:
Coffee keeps me busy until it's time to be drunk magnets
by
bluntcard
Coffee keeps me busy until it's time to be drunk ... :-)
left:
Cartoon Triceratops - Customizable Text Refrigerator Magnets
by
ScribbleKitty
A smiling purple Triceratops on a prehistoric jungle background. Great for dinosaur party favors!
right:
Vintage look artist pallette promotional magnets
by
giftsbonanza
Vintage style artists pallette with a cute lady painted on also with red green blue yellow paint blobs and a bristle paint brush. Great promotional give away for any beautician, or make up artist.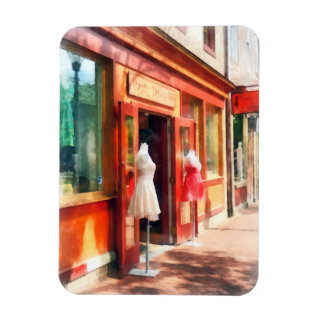 left:
Personalized Cute Girl and Horse Magnet
by
TheCutieCollection
Personalize this cute custom Girl and Horse Magnet with any horse lovers name or favorite horse or pony. They make excellent gifts.
right:
Dress Shop Fells Point MD Flexible Magnets
by
SusanSavad
Designs by Susan Savad -- This charming dress shop with sample dress on mannequins decorating the front of the store is found in Fells Point, Baltimore, Maryland.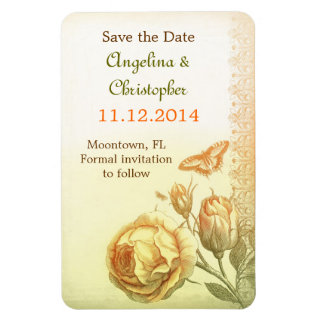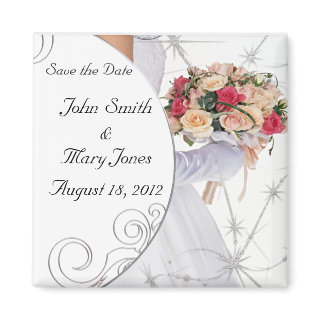 left:
Save the date victorian vintage picture magnets
by
jinaiji
Save the date beautiful elegant unique magnets with colorful victorian style drawing: roses, butterfly and ornamental border or lace.
right:
Save the Date Bride Fridge Magnet
by
angelworks
Save the date magnet. Side view of a bride with satin gloves holding a bouquet of pink and peach roses. Names and dates can be changed.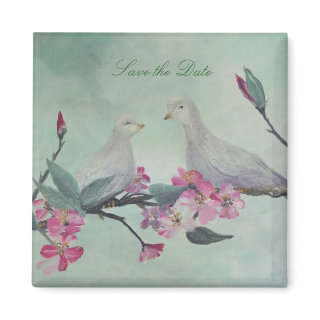 left:
Love Doves -Save the Date -customize text- Magnet
by
rokinronda
Save the date magnet with a beautiful painting of doves ... love birds ...
right:
Classy Peacock Blue Wedding Save the Date Magnets
by
BridalHeaven
Colorful peacock feathers and textured background in peacock blue colors designed on custom Wedding Save the Date Invitation Magnets. Very modern, unique and classy peacock theme wedding design for any elegant brides! All the sample text can be fully customized with your own wording. Feel free to change the fonts, sizes & colors of the text as well.
left:
Fishing Cat Dishwasher magnet
by
teastainstudio
Happy kitty has caught a fish. Sad kitty has nothing left but the bones. Use this magnet on you dishwasher to show when the dishes are clean or dirty or use it to post good news or bad news, to show how your day is going, or how you are doing on your diet.
right:
Vintage Label Magnet
by
VintageFruitCrate
Colorful paper labels have been used to identify products since the early 1880s. Introduced to America by European artists, this printing process became known as lithography, the first commercial art. Orchard owners used this new concept of lithography to bring attention to their fruit. In the 1950's, the development of pre-printed cardboard boxes caused wooden crates with paper labels to be a thing of the past.
left:
Vintage Photo Frame Magnet
by
sunnysites
Picture frame magnet with polka dots in vintage style. You can replace the image of the boat with your own and you need to adjust the text. Great for a baby announcement or to cherish a loved family member for instance. Or maybe a family picture for the grandparents?
right:
Artistic Romantic Photo Magnet
by
sunnysites
A beautifully designed magnet with the option to replace the center flower with your own image and of course you can also change the text!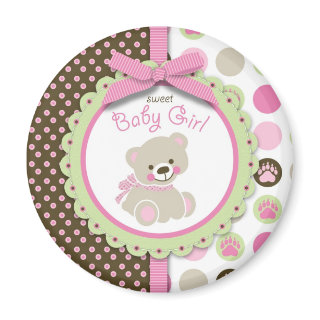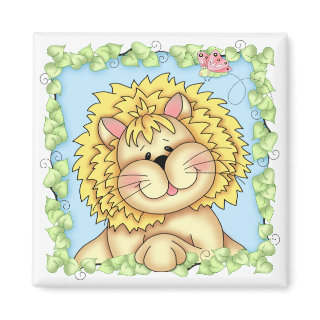 left:
Welcome Bear Girl Magnet 2
by
LullabyeDreams
Cute teddy bear with novelty dot and paw print with ribbon and bow.
right:
BaZooples Lester the Lion Magnet
by
BaZooples
BaZooples magnets make the perfect party favors for baby showers & birthdays! This magnet features Lester the rambunctious little lion cub. And since a BaZoople is never alone, you'll always find a flutterbug doing loop-d-loops close by.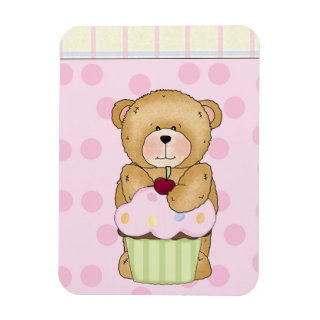 left:
Teddy Bear Cupcake Party Vinyl Magnet
by
bonfireanimals
Teddy bear cupcake party ready to celebrate new baby showers, birthday parties and sweet happy smiles.
right:
Cute Retro Abstract Flowers & Grunge, Teal & Green Refrigerator Magnet
by
vectorgraphicsvicky
Beautiful abstract floral fashion design with teal, aqua, blue green and white flowers and grunge, dots and swirls. Customize with your own text.
left:
Sock Monkey Birthday Party Favor Magnets
by
PoshPartyPrints
These adorable magnets are great to give as favors for a birthday party or baby shower. Customize with your own text!
right:
Letitia Ladybug Refrigerator Magnet
by
AngelArtiste
This Ladybug wants to steal your heart. Cute, happy ladybug with a bonnet sitting on a mushroom and smiling.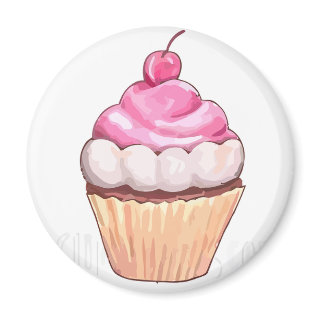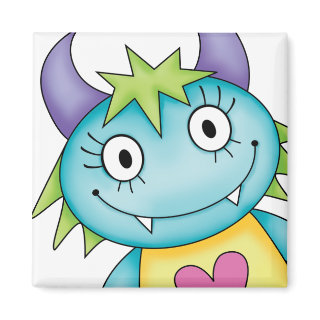 left:
Cupcake Magnet
by
TheDarlingDiva
A delicious cupcake ... great magnet for a birthday present for instance!
right:
Cute girl monster magnet
by
MyMonstersShoppe
Do you like to have a monster of a good time? This adorably cute little blue girl monster will join you. Great gift for any fun loving child or adult.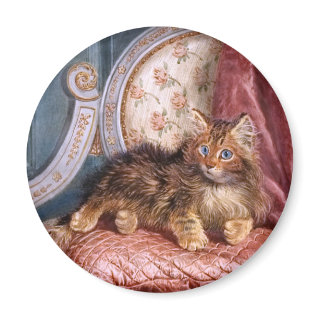 left:
Fairytale Wedding Flexible Magnet
by
Sugarcoating
A cute elven couple saying their vows by a pond under a curly tree decorated with ribbons and lanterns. And in the tree lots of creatures joining the celebration: birds, butterflies, three small faeries holding three baby dragons, a snake, a white cat and at the roots the mama dragon.
right:
Wilson Hepple: Brown Kitten on an Armchair Fridge Magnets
by
vintagechest
Decorate your fridge or board with a charming vintage magnet featuring a cute kitten on an armchair, painted by the Northumbrian painter Wilson-Hepple.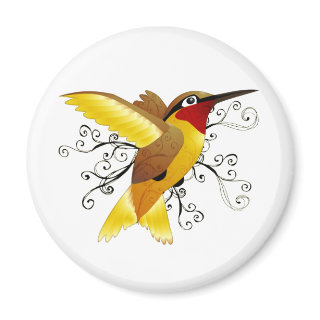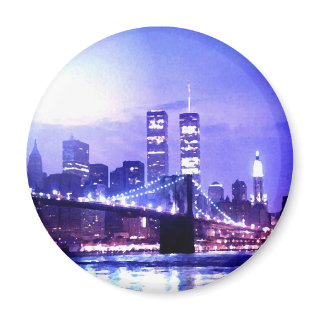 left:
Hummingbird Swirl Magnets
by
Beastees
This cute, red-throated hummingbird is surrounded by a swirly motif that is reflected on its golden feathers.
right:
New York City Night Panorama Magnet
by
made_in_atlantis
Brooklyn Bridge, Manhattan Financial District at Night Pop Art Style Digital Photo Image.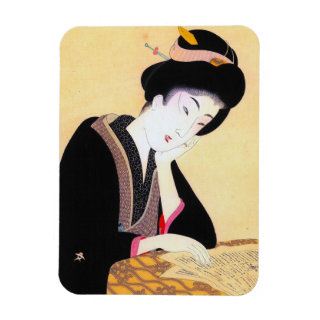 left:
Cool oriental japanese classic geisha lady art vinyl magnets
by
TheGreatestTattooArt
Cool oriental japanese classic geisha lady art.
right:
Artistic Fractal Celebration Magnet
by
annevisdesign
A colorful fractal art personal magnet. You can customize the text and add for instance a name. A great birthday gift or to celebrate!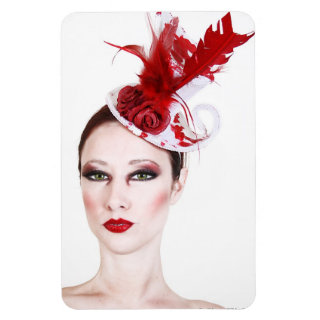 left:
Sheltie I Dog Portrait Magnet
by
jaiart
Sheltie I, a portrait of a sweet Shetland Sheepdog - This is part of jaiart's new artistic photography series of work. This artistic photography is filled with interesting painted textures and layers of pattern and color along with original photos, creating the perfect compliment for your home or office, as well as beautiful gifts for those special people in your life.
right:
Hat Meredith Molinari Rectangular Magnets
by
MissFitPhoto
MissFitPhoto Artistic image of Meredith Molinari wearing bubbles and frown.
Also check out a previous post with dishwasher magnets or photo frame magnets (with the option to add your own pictures)! You can also find a lot of photo frame magnets on sunnysites.
The details of today's sale:
50% of the button, sticker and/or magnet net sale price will be deducted when one or more qualifying button, sticker and/or magnet items are purchased. The net sale price is the price of the product (excluding shipping and taxes). The coupon code ZBDAYFLAIR50 must be entered during checkout to receive the offer. Offer is valid through July 12, 2012 at 11:59 PM PT. This offer does not apply to past purchases and may not be combined with any other Zazzle promotional or volume discount offers. If a volume discount applies to your order, you will receive either the discount set forth in this offer or the standard volume discount, whichever is greater. Offer valid on Zazzle.com only.