Animals are inspiring and oftentimes cute and charming. Popular characters so to say ... :-)
Today I chose 30 birthday cards with an animal theme, great cards for adults, and some also beautiful for kids ...
Cards on Zazzle can be extensively customized, with your personal text, even your own choice of font, font size and color. It is also possible to change the background color on the inside of the card.
At the bottom of the post you find the links to special cards for dog lovers and cat lovers.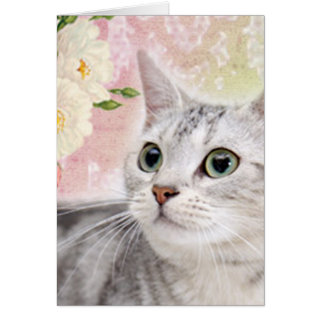 left:
Stop To Smell The Roses Greeting Card
by
misspuss
This beautiful cat design makes a purrfect gift for cat & animal lovers.
right:
Juvenile Jungle Birthday Greeting Card
Playful giraffe birthday card for young children.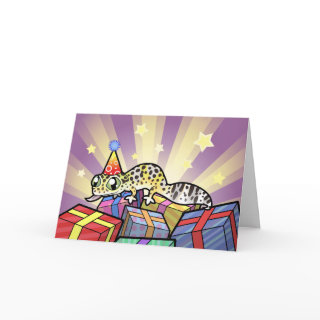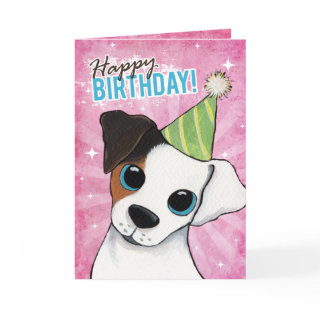 left:
Birthday Leopard Gecko Greeting Cards
by
CartoonizeMyPet
Birthday Leopard Gecko.
right:
Happy Birthday Jack Russell Party Dog Greeting Card
by
LisaMarieArt
Cute jack russell dog birthday card with full color inside. Girls of all ages will love this cute little party hat wearing jack russell!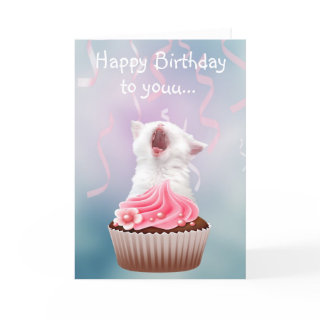 left:
Rabbit Just Add Name Birthday Card
by
biglnet
Rabbit Birthday Card. This fun Rabbit design makes a perfect gift for any Rabbit lover.
right:
Happy Birthday kitten Card
by
deemac1
White kitten sits behind a pink cupcake with its mouth wide open belting out the Happy Birthday song while streamers fall in the background cat lover cute birthday card.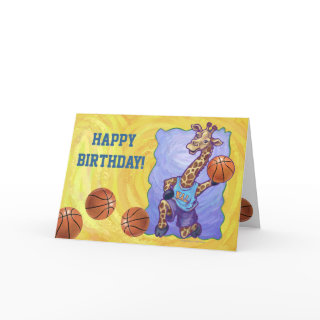 left:
Willet Bird Birthday Card in Shades of Brown
by
GrandmaDee
The Willet is a large Sandpiper that loves to fish in shallow water along the eastern coast of the United States. He makes a great nature-lover's birthday card.
right:
Basketball Giraffe Happy Birthday Card
by
ImagineThatDesign
Cute Giraffe Happy Birthday Card features our fun giraffe basketball star from our Wild Animal League. Brought to you by Imagine That! Design this fun giraffe basketball player wears a blue and purple basketball uniform in blue and purple and spins a basketball on his hoof. Digitally painted by our talented children's book illustrator, Traci Van Wagoner, this playful animal sports birthday card will give your friends a kick. This funny cartoon giraffe card is perfect for giraffe lovers, basketball lovers, sports fans, basketball players, and safari animal lovers of all ages.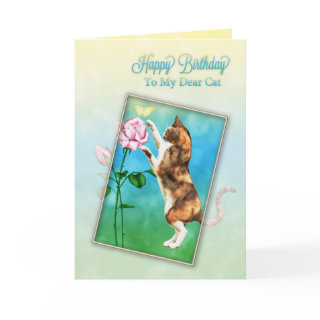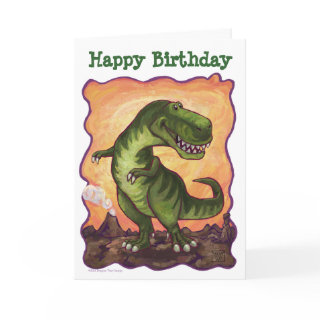 left:
To cat, Happy Birthday with a playful cat Greeting Card
by
Eggznbeenz
A cute calico cats play at chasing a yellow butterfly that has landed on a red rose.An extra special card for a cat lover. Artist: Norma Cornes.
right:
TRex Dino Happy Birthday Card
by
ImagineThatDesign
Cute Tyrannosaurus Rex Dinosaur happy birthday card features a cute green T-rex dinosaur standing in a prehistoric volcano filled background with a yellow, orange texture sky behind digitally painting by Traci Van Wagoner. Inside is a customizable message that reads, I hope your birthday is filled with tail-wagging good times! This cute dino card is a great way for all dinosaur lovers, TRex lovers, dino lovers, prehistoric animal lovers to wish their friends a happy birthday. Visit Party Central in our Store and find all kinds of fun TRex Dino themed party gifts, stickers, t-shirts, invitations, rsvp cards and more! Have a tail-wagging good time!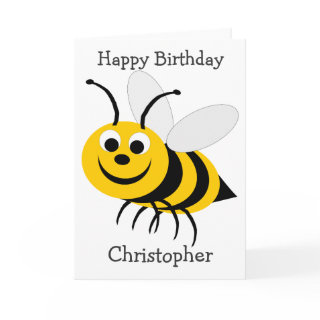 left:
Little Bluebird Birthday (customizable age) Cards
by
ScribbleKitty
Personalize the text and age to make this adorable birthday card truly unique. The front features a cartoon bluebird carrying the birthday boy or girl's age against a sky blue background. All the text is fully customizable and the inside is decorated with two more cute birdies.
right:
Honey Bee Birthday Card Just Add Name
by
biglnet
Bee Birthday Card. This fun bee design makes a perfect gift for any bee lover.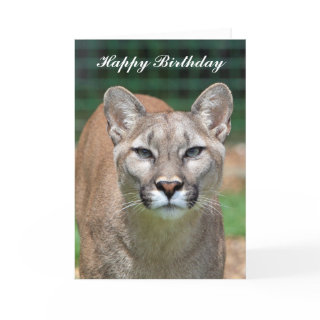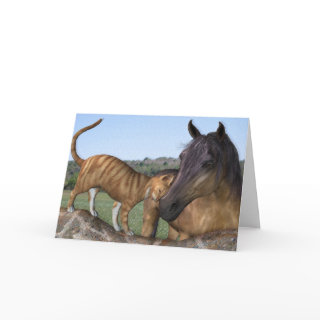 left:
Cougar beautiful photo happy birthday card
by
roughcollie
Close-up photo portrait of a beautiful cougar, mountain lion happy birthday greeting card. Change text inside card to suit your requirements. Great gift idea for animal lovers.
right:
Horse and cat, Love Thy Neigh-Purr Greeting Card
by
3DDesignsByJayne
This card is suitable for any occasion and is designed with an original artwork created in DAZ 3D by artist Jayne Wilson, featuring a horse and cat that have become the best of friends by the pasture wall. Animal lovers everywhere will appreciate this card, which is blank inside for you to include your own message.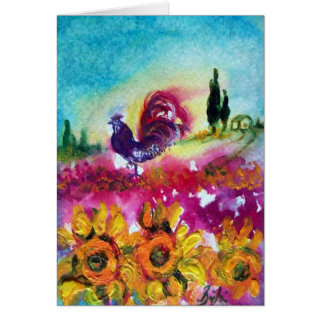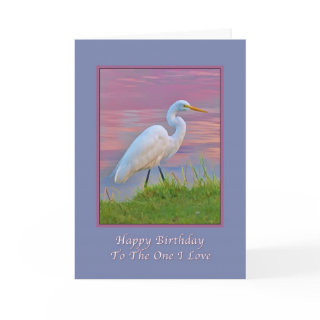 left:
Sunflowers and black rooster card
by
bulgan_lumini
Colorful ,whimsical Tuscany landscape with flower fields and black rooster in yellow,red fuchsia,green,purple,blue colors. Acrylic painting on canvas.Cool,artistic design for Summer holiday parties ,family reunions,,anniversary ,birthday parties or just about any event you wish!
right:
Birthday, Lover, Great Egret Strolling at Sunrise Cards
by
GrandmaDee
Seen strolling at sunrise along the banks of a lake, this Great Egret is one of the most majestic wading birds. It makes a very colorful birthday greeting card.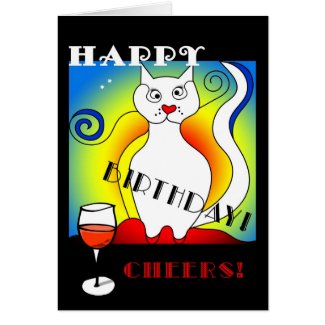 left:
Birthday Wishes, Chickadee, Bird, Nature, Wildlife Cards
by
countrymousestudio
Original Watercolor. Birthday Wishes, Chickadee, Bird, Nature, Wildlife are sure to please a animal, nature or wildlife lover.
right:
Funny Mondrian's Cat Birthday Card
A cute variation on "le Chat Blanc" and the mimimalist style as used by Dutch artist Piet Mondriaan (in the US known as Mondrian).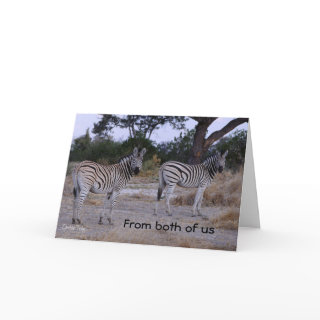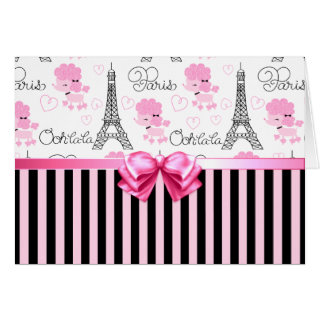 left:
Double Take Zebra Birthday Card
by
Keller_Photography
Double Take Zebras Nature Photo by Kurt Keller.
Double Take Zebras picture birthday card features a beautiful photograph of two zebras both looking at you from Arica with the customizable words, From both of us. Inside reads, Happy Birthday, Hope you have a WILD one. This fun photo was taken during a snack break by Kurt Keller with a 35 mm camera while on an African safari in Botswana, South Africa and Zimbabwe. Anyone who loves african animals, wildlife, and any zebra lovers will enjoy this wild animal birthday card.
right:
Paris Poodles Card
by
trisharose
This cute poodle design makes a nice gift for dog & animal lovers. Great for Valentine's Day, Easter, Mother's Day, Birthday and Christmas for Mom, Wife, Girlfriend, Sister, Niece, Daughter & Friends.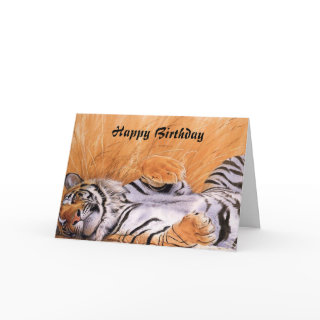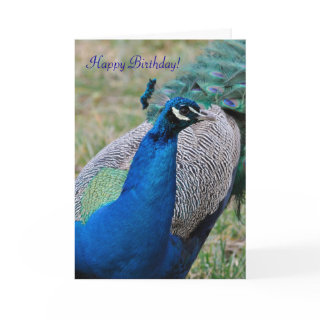 left:
Friend birthday Card
by
babydoll6383
Beautiful tiger shot for a purrfect birthday!
right:
Peacock birthday card
by
ruralfrance
A bright iridescent blue peacock on a birthday card for any animal or bird lover.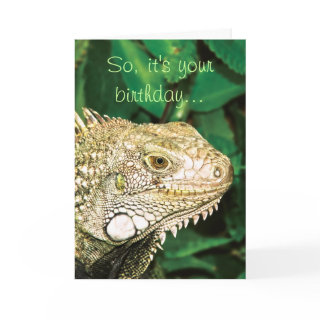 left:
Animal funny birthday humor cards
by
Rowood
Funny birthday cards for animal, Reptile and iguana lover, featuring a close up view of a green iguana, with the words "So, it's your birthday" on the front and "Cool.....where's the cake?" on the inside.
right:
Barn Owl Birthday Card
by
northwestphotos
A great looking birthday card for bird or wildlife lovers with a barn owl.
left:
Kitty Birthday Card
Colorful fantasy cat birthday card
right:
50th Birthday Tiger Congratulations Card
50th Birthday congratulations card with a big cat - in the fifty and fabulous series ... :-)
Also check out previous posts with
birthday cards for dog lovers
artistic birthday cards for cat lovers