Zazzle has new phone cases: Case-Mate Motorola Droid RAZR Barely There Case.
In this post I would like to introduce the hottest designs for this awesome case:
left:
Druifus Re-Drawn 04 Phone Cases Droid Razr Case
by
lowvincentyh
This artwork is designed, drawn and owned by Vincent Low Y H aka lowvincentyh/TribbieTrip/TribbieVincent.
right:
Sparver Elegant Baroque Motorola Droid Razr Case
by
LiquidEyes
You are unique so why shouldn't your phone gear reflect that as well? Because you like something different check out this beautiful Bariqye inspired designer iphone case for your Motorola Droid RAZR. Customize with your own monogram or name ...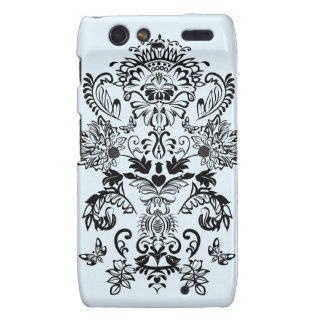 left:
Mallard Feathers Pattern Droid Razr Cover
by
ClownFishCafe
This lovely Droid RAZR case has a pattern made from a repeated image of blue, brown, red, yellow, and white mallard feathers.
right:
Romantic Damask Motorola Droid RAZR case
by
walstraasart
This Motorola case has a romantic damask design with Love birds, Hearts, Swirls and Vintage flowers / Leaves . This product can be a perfect gift for a bride and groom or for Valentine's day. You can customize this product by adding text and / or by changing the background color.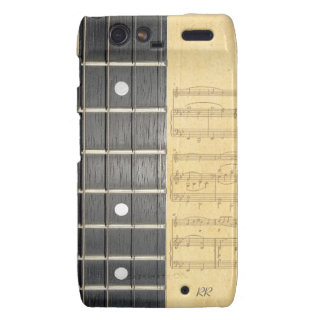 left:
Aqua Turquoise Motorola Droid RAZR BT Case Droid Razr Covers
by
annevisdesign
Motorola Droid RAZR Barely There Case with a beautiful aqua style abstract design and the option to have your own name or other text on the case.
right:
Banjo Fretboard Sheet Music Motorola RAZR Case Motorola Droid Razr Case
by
DigitalDreambuilder
This Motorola Droid RAZR Case features the image of part of a banjo fretboard in wood with pearl inlay and 4 strings on a background of sheet music on aging golden yellow manuscript. The dark wood of the fretboard on the left and the golden hues of the manuscript on the right provide for an eye-catching color contrast.
A cool gift for a musician, banjo player, guitarist or music lover that can be personalized with a name, monogram or initials of your choice.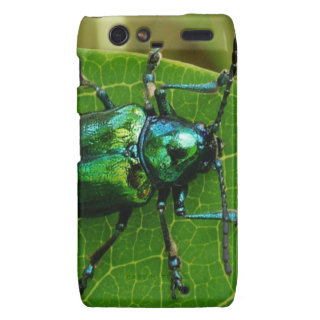 left:
Green bug on green leaf droid razr covers
by
Ixodoi_Art
A picture of a green bug on a green leaf.
right:
Lamp Lighter Case-Mate Motorola Droid RAZR Case
by
SandyJBrooks
SandyJBrooks original artwork on a Case-Mate Motorola Droid RAZR Barely There Case.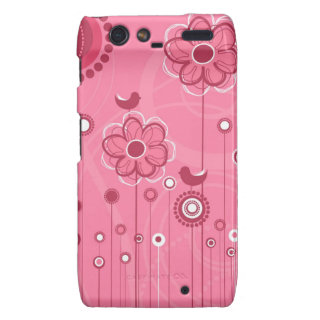 left:
An Elegant White Royal Peacock Bird Photography Droid Razr Covers
by
kicksdesign
An elegant white beautiful royal peacock bird. A unique stylish nature photograph image design. The perfect elegant gift idea for her bride bridesmaid birthdays and nature lover, bird lover or anyone for any occasion.
right:
Whimsical Garden Motorola Droid RAZR Case
by
EveStock
Floral Motorola Droid RAZR Case Creative Unique Design.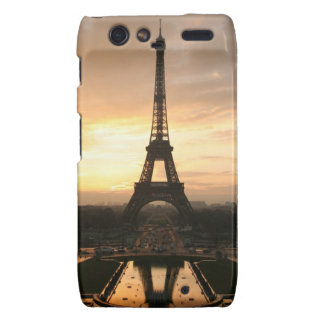 left:
Little Witch Motorola Droid RAZR Case
by
Gatterwe
A little witch flying in the moonlight over a lake.
right:
Eiffel Tower at Sunrise from the Trocadero
by
best_gift
The Eiffel tower at sunrise, taken from the Place du Trocadero. Paris, France.
left:
Castle Glass SnowGlobe Droid Razr Case
by
bartonleclaydesign
A snow globe is a transparent sphere, usually made of glass, enclosing a miniaturized scene of some sort, often together with a model of a landscape. The sphere also encloses the water in the globe; the water serves as the medium through which the "snow" falls. To activate the snow, the globe is shaken to churn up the white particles. The globe is then placed back in its position and the flakes fall down slowly through the water. This is a Cute Snowman Snow-globe.
right:
Beautiful Pink Roses
by
vectorgraphicsvicky
Lovely retro design, pink roses with green leaves. Customize with your own text, resize the image.
left:
White and Red Polka Dot
by
KarinaandCleo
White and red polka dot design. White polka dots on red.
right:
Elegant Steampunk
by
poppycock_cheapskate
Steampunk Motorola Droid RAZR 'Barely There' mobile phone case featuring a stylish, elegant outer case with a classic Poppycock & Cheapskate chronographic timepiece nestling within, it's exposed gears and other working a feast for the eye!
left:
Urban Skateboarder - Droid RAZR Case
by
ImGEEE
Urban Skateboarder - Droid RAZR Case
right:
Autumn Abstract Motorola RazR droid
by
giftsbonanza
A modern abstract geometric pattern in warm autumn colors - featuring the fashion colors for this coming autumn including cerulean blue, honey gold, crater brown, east side violet and pearl lusta. The black trim and golden background color can be easily changed to reflect your own style.
left:
Drive a Classic Car
by
ManCave_Stuff
Retro vintage antique automobile with mid-century modern lettering that spells out DRIVE in embossed look text on classic turquoise background. From Man Cave Stuff from Cowboyannie Designs.
right:
Cute Halloween Cartoon Cat Skeleton
by
Fall_Seasons_Best
Cute Halloween Cartoon Cat Skeleton
... I saved the best one till the end! :-) This cute cat got me completely cracked up! :-)
You can find other phone cases in previous posts.
And you also don't want to miss the best flower iPhone cases!