In the world of baby the art of illustration is king. And today I found a whole bunch of outstanding design baby shower stickers for you. Even if you do not have a baby or may not be attending a shower, it is still such a treat to just enjoy them!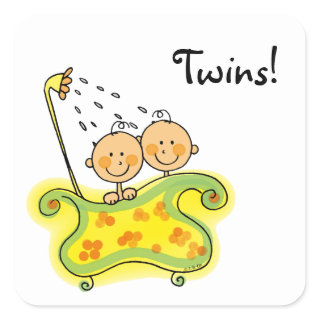 left:
Cute baby girl & boy twins square sticker
by
jsoh
Cute baby girl & boy twins stickers, great for baby shower. You can easily personalize this design.
right:
Spring Lion (Yellow-Girl) Square Favor Sticker
by
allpetscherished
These adorable Spring Lion favor stickers are perfect for baby shower favors!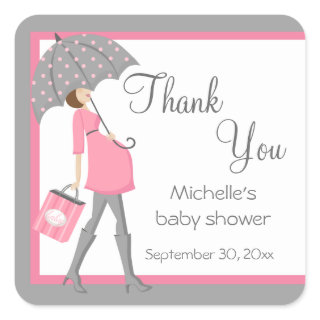 left:
Sweet Baby Bird Stickers Envelope Seals
by
PoshPartyPrints
These adorable stickers are perfect for envelope seals on baby shower invitations or note cards. Customize the text and add your own personal message.
right:
Pink And Gray Shopper Baby Shower Stickers
by
malibuitalian
A trendy mother-to-be carrying a shopping bag and holding a polka dot umbrella is the focus of this customizable square sticker. Coordinating colors complete the frame on this contemporary design. There is plenty of customizable text for you to personalize this sticker making it an ideal accent to our matching invitations.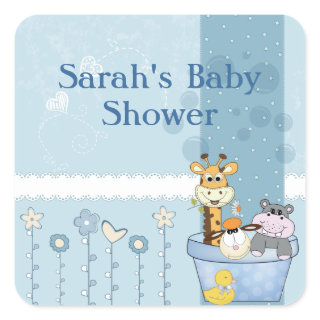 left:
Baby Blue Dots Animals Flowers Baby Shower
by
StarStruckDezigns
Sweet baby blues with polka dots and hearts. Baby giraffe, hippo, and sheep in a flower pot with more flowers and a cute baby duck. Perfect for a boy baby shower!
right:
Cute pea baby shower sticker
by
cardscorner
Cute pea baby shower sticker.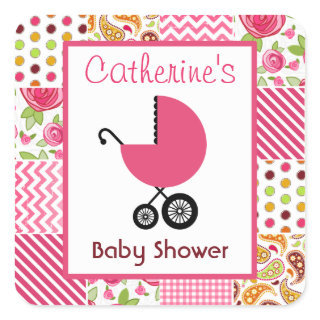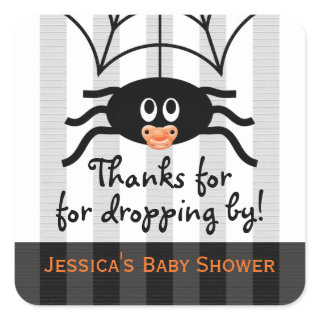 left:
Baby Shower Pink Carriage & Girly Patchwork Stickers
by
JillsPaperie
A baby shower sticker featuring an illustration of a pink baby carriage over a background featuring a patchwork design which includes polka dots, zigzags, paisley, roses, gingham, and stripes.
right:
Halloween Spider Baby Shower Thank You Stickers
by
OccasionInvitations
A more sweet than spooky spider sucks on an orange pacifier as he hangs from a web on a gray and white striped background. These orange and black stickers make cute halloween baby shower party favor labels.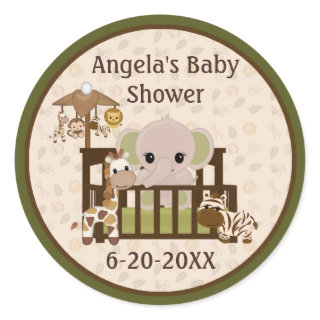 left:
Elephant Baby Shower blank labels/seals NALI #01 Sticker
by
MonkeyHutDesigns
Sticker labels matching MonkeyHut's Baby Shower invitation. Perfect for envelope labels, seals, stickers or even favor bag tags or cupcake toppers.
right:
Noah's Ark - Blue Thank You Sticker
by
freshpaperie
Noah's Ark - Blue Thank You Sticker.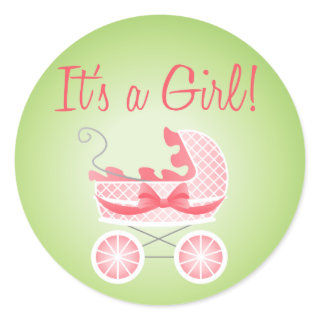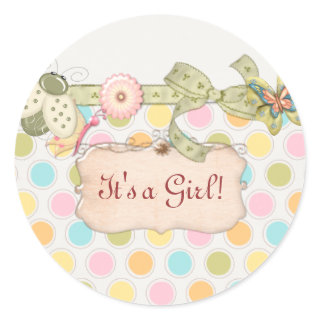 left:
It's A Girl! Stroller Stickers
by
creativebaby
These adorably stylish stroller stickers are great for decorating envelopes & scrapbooks or handing out as favors and prizes at a baby shower!
right:
It's a Whimsey Girls Baby Shower Gift Stickers
by
BohemianBoundProduct
A beautiful somewhat vintage and original style Baby Shower Sticker.
You may also like a previous post about baby creepers!