If you think that everything we use in life has been designed, it makes perfect sense to choose those items that please our eye and sense of well being. Today I selected the latest messenger bags, all individual design, customizable and utterly beautiful ... You can see how patterns and abstracts are very popular, as well as romantic designs with floral aspects. Enjoy!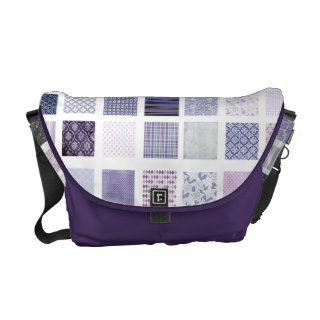 left:
Romantic Pattern with Roses Messenger Bag
by
annevisdesign
Messenger bag with a romantic design with roses and floral patterns. You can customize by adding text.
right:
Purple and white mosaic commuter bag
by
inspirationzstore
Messenger Bag with a purple and white mosaic design.
left:
Cool Abstract Colorful Vector, Splash Pattern Commuter Bag
by
vectorgraphicsvicky
Beautiful modern vector design with bright colors.
right:
Monogram Elegant Floral Design Messenger Bag
by
annevisdesign
Messenger bag with an original fractal floral design. On the front of the bag is a monogram, which you can customize.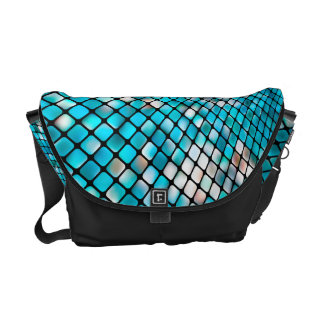 left:
Awesome Mosaic 1 Messenger Bag
by
Ronspassionfordesign
Awesome Mosaic Messenger Bag.
right:
Black and White Art Deco Style Messenger Bag
by
annevisdesign
A trendy and playful messenger bag in art deco style. You can customize the text (also change font, font size or color!). This bag is perfect for school, as a commuter bag or for your business.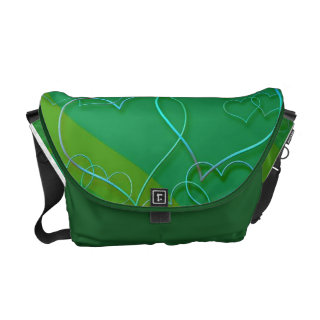 left:
Vintage pink floral girly shabby chic roses messenger bags
by
_Angelique_
A hipster, girly design of a vintage floral bouquet with preppy pink roses green leaves on a distressed retro sand, gray background. Perfect gift for the nature lover, floral art lover and fashionista.
right:
Neon Hearts Commuter Bags
by
Iggys_World
Neon hearts on a green background.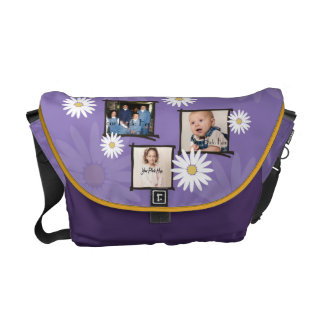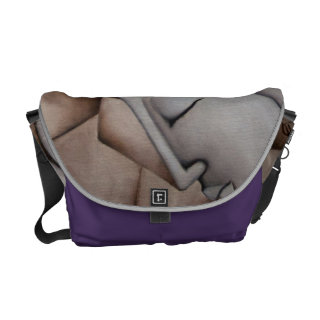 left:
Daisy Photo Frame Messenger Bags
by
tshirtmeshirt
Add your favorite family photos to this charming daisy bag in purple. Makes a great keepsake gift for parents and grandparents.
right:
Meditation Rickshaw Messenger Bag
by
SimonaMereuArt
A design from Simona Mereu's painting "When the Universe Speaks" oil on canvas. The profile of a Buddha lost in meditation in white with a light brown background. A bag that is a work of art.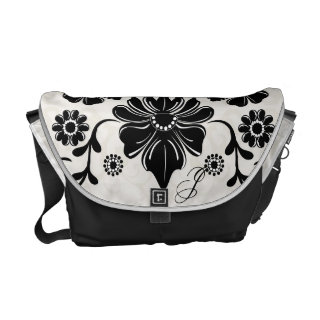 left:
Cool colourful squares and rectangles round corner commuter bag
by
InovArtS
Cool colourful squares and rectangles round corners cubes shapes old grunge texture effect pattern image.
right:
Elegant damask floral Messenger bag with Monogram
by
walstraasart
This Messenger bag has a trendy design with beautiful flowers and elegant swirly brenches with lovely leaves. The background has also damask / retro swirly patterns but with a very subtle contrast. This product can be customised by changing the monogram / text into the desired one. It is also possible to change the interior and / or binding colour(s).
left:
Stained glass - graphics abstract background messenger bag
by
AbstractPatterns
Messenger bag with a stained glass design.
right:
Acanthus Leaf, Vintage Look 2 Messenger Bag
by
gingcard
This ample Vintage Acanthus Teal Leaf Rickshaw Messenger Bag will be great for most occasions. It is perfect for daily use. The large leafy plant pattern is classic with a Art Deco style. The colors are timeless with the teal, cream and moss green. It has beauty and elegance. Carry your computer, purse, lunch and what ever else you might need in this daytime bag. Why not use it for a diaper bag. Let the diaper bag fit your style not your baby's. It will make a great shopping bag or a weekend get away bag.
Also take a look at previously featured artistic messenger bags!