With Halloween just over a month away, it's time to gear up for the party. Today I selected some of the latest and most fun Halloween Party Invitations for you. And you are lucky, because they are on sale now.*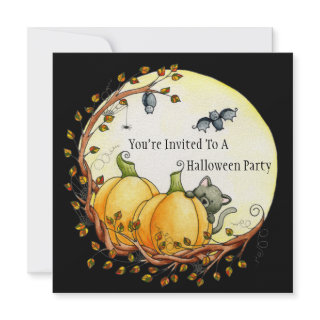 left:
By The Light Of The Moon Invitation
by
13BlackCatsDesigns
By The Light Of The Moon Invitation - Halloween party invitation
right:
Halloween Party Invitation Card
by
sunnysites
A cute Halloween party invitation with all the necessary ingredients: angry cats, witches and dark spooky castles that are falling apart. It promises to be a very haunting experience indeed ...
You can customize all texts.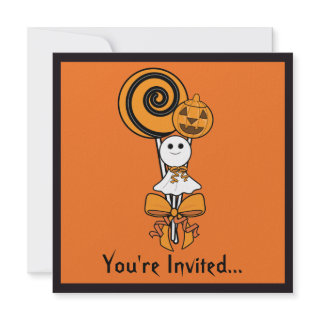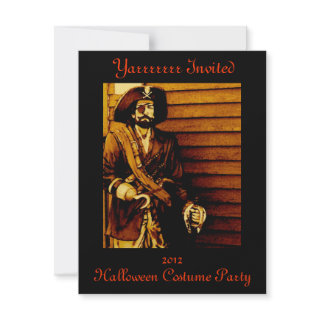 left:
Halloween Party Invitation: Three Halloween Sweets
by
PenguinCornerStore
An invitation to a costume Halloween party decorated with three sweet treats.
right:
Costume Party Invitation
by
marlaazinger
Costume party invitation with Pirate on front can be used for Halloween.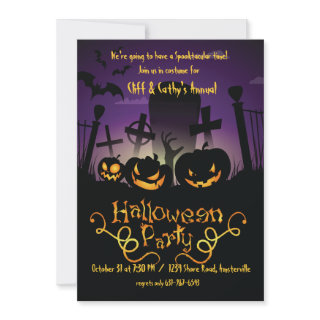 left:
Halloween Invitation - Trick Or Treat Invitation
by
itsjensworld
Boo! Trick or Treat invite featuring a cartoon kid dressed as a ghost and out on the hunt for candy. Solid Blue coloured back with fully customisable white text - change the event, date, time, address etc etc and make it your own!
right:
Graveyard Antics Halloween Invitation
by
PixiePrints
Halloween night and the jack-o-lanterns are showing their antics. A fun Halloween invitation for your special affair.
The invitation is easy to customize with your wording, font, font color and choice of six paper types.
left:
Halloween Party Invitation
by
JustCards
Haunted House Halloween Party Invitation , complete with bats, a graveyard and scary faces - customizable for your Halloween party - a great and safe way to celebrate October 31.
right:
Masquerade Ball / Festival / Costume Party - SRF Announcements
by
sharonrhea
Costume party invitation - All images can be deleted or changed.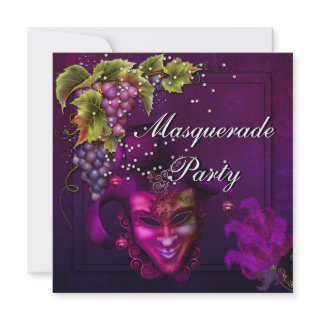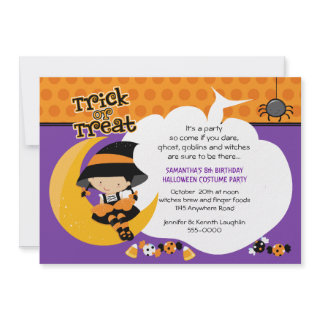 left:
Purple Black Masks Masquerade Ball Party Personalized Invite
by
MasqueradeParty
Purple Black Masks Masquerade Ball Party Invitation.
right:
Witch on the Moon Halloween Birthday Personalized Invitation
by
mousearte
Perfect for a child's Halloween birthday and costume party, this invitation has a background of orange dots and deep purple with a cute little witch sitting on a half moon and candies along the bottom. The text on the pumpkin shape can be customized with your own information.
* 50% Off Cards & Invitations
Limited Time!
Enter code:
HCARDSAVINGS
at checkout in the "Zazzle Coupons/Gift Certificates" box
50% of the invitation and/or greeting card net sale price will be deducted when twenty five or more qualifying invitations and/or greeting cards are purchased and the coupon code HCARDSAVINGS is applied at checkout. The net sale price is the price of the product (excluding shipping and taxes). Offer is valid through September 16, 2012 11:59pm PT. This offer does not apply to past purchases and may not be combined with any other Zazzle promotional or volume discount offers. If a volume discount applies to your order, you will receive either the discount set forth in this offer or the standard volume discount, whichever is greater. Offer valid on Zazzle.com only.
Also take a look at a previous post with invitations