The Holiday season is perfect to throw a Christmas party for your children or to invite friends over with their families. Today I have selected some awesome invitations that are also great for children. Give them some extra treats, they deserve it! :-)
left:
Christmas Toddler Birthday Invitation
by
sunnysites
Born in the month of December and a birthday easily gets snowed under by all the Christmas celebrations ... Organize a special party for your toddler with this cute teddy bear card! You can customize all texts! This card is also great for a Christmas party.
right:
Christmas Teddy Bear Announcement
by
WindUpEgg
Christmas party invitations template featuring a cute teddy bear holding a present.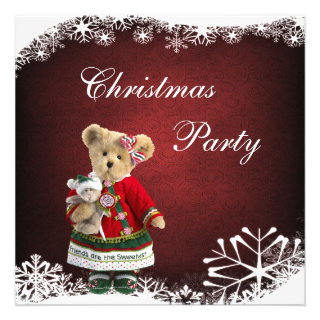 left:
Big Bear Invites
by
BearStore
Cute friendly Big Bear bearing a huge starry gift in his arms. Great for kids and baby party invitations and baby showers.
right:
Friends Are The Sweetest - Christmas Teddy Bear Personalized Invitations
by
GroovyGraphics
Show how much your friends mean to you with these elegant and chic adorable Christmas party invitations for family, adults and children's festive Xmas parties with a cute Christmas teddy bear wearing a pretty holiday dress with the words "friends are the sweetest". She is holding an adorable cuddly toy cat. The background is a beautiful deep red swirls with a lovely subtle seasonal glow and a cute white snow and snowflakes border. Stylish, pretty Christmas party invitations suitable for anyone. Kids will love this sweet festive bear character! These classy modern Christmas invites with a vintage feel are decorated on both sides and all text is fully customizable. Some elements from cajoline scrap.
left:
Winter Holidays Funny Owl Colorful Announcements
by
GirlyTemplate
Little cute owl wearing a scarf and a hat for the cold winter. Perfect for Christmas Holidays! Some elements by JW Illustrations
right:
Snow Cats Christmas Family Party Invitation
by
annescats
A cute and fun invitation with bright eyed snow cats to invite friends and (their) families over for a casual Christmas get-together. A festive and delightful way to celebrate the Holidays! You can customize all texts.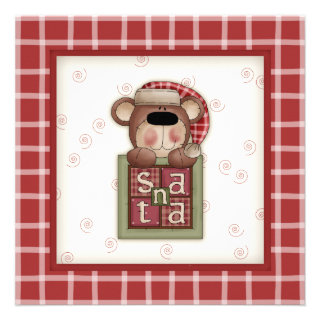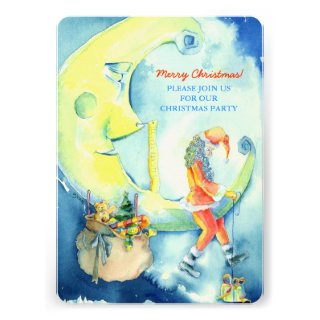 left:
Blushing Teddy Bear Christmas Party Invitations
by
Truly_Uniquely
This fun country kitsch style Christmas Party invitation features a plaid pattern to the front with a whimsical and cute teddy bear illustration holind a patchwork sign that reads: Santa. Perfect for children's Christmas parties.
right:
Santa's Gifts Unique & Fun Christmas Party Invites
by
Whimsical_Holidays
Watercolor painting that features Santa handing out Christmas presents from the Moon. Unique & artistic holiday party invites for your family and friends! All the sample text can be customized with your own wording.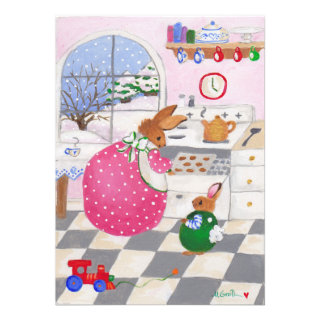 left:
Baking cookies invitation
by
petitpaintpaintdraw
Customize this for any purpose you like! If you are giving a child's party there are aprons, magnets and other fun matching zazzle products.
right:
Gingerbread House Invitations
by
suncookiez
A sweet gingerbread house decorates this holiday invitation. Use these gingerbread invitations for a holiday party, office party, cookie swap, cookie exchange, gift exchange, Christmas party, open house, Christmas dinner, office Christmas party, etc.... The design is from an original illustration.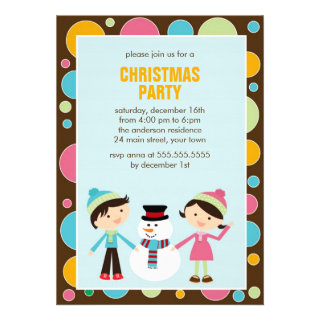 left:
Kids Christmas Party Invitation -Teddy Bear,ginger
by
IrinaFraser
Teddy bear with Father Christmas hat, gingerbread man and presents. All that children dream of is here: Teddy bear, candy cane and exiting presents. You can change font, color or put your own message in front or inside
right:
Kids and Snowman Christmas Party Custom Invitations
by
heartlocked
Kids and Snowman Christmas Party - Holiday party invitation.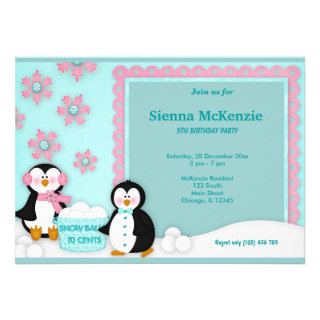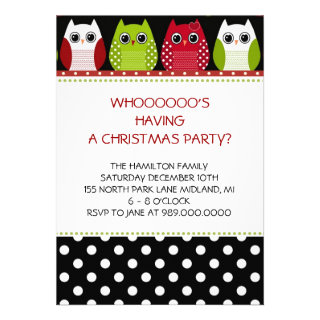 left:
Winter Birthday Custom Invites
by
graphicdesign
Adorable winter festive invite for kids.
right:
Christmas Owl Holiday Party Invitations
by
whupsadaisy4kids
These super cute family holiday party invitations are totally customizable by you! Just change the template text to your own party information and you're done!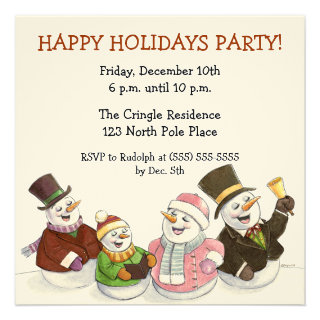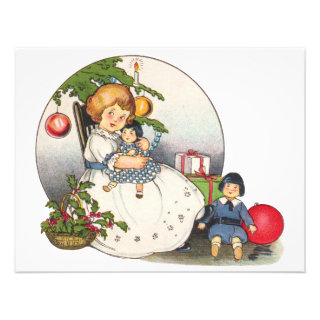 left:
Caroling Snowmen Holiday Party Invitations
by
karyn_lewis
Invite everyone to your next Holiday party with these cute Christmas or Holiday Invitations that feature a whimsical, children's book style illustration of caroling snowmen. Ready to personalize. Just fill in your party information.
right:
Vintage Child Happy Girl with Doll Christmas Party Personalized Invitation
by
ChristmasCafe
Vintage illustration Victorian Christmas holiday image featuring a happy, smiling child sitting in a chair and playing with her new dolls and toys under a Christmas tree decorated with ornaments and lit candles. The girl is next to a basket of holly and more presents to unwrap.
You may also like a previous post with 50 fabulous birthday party invitations