Mugs are great gifts and can easily be personalized. Most of the mugs you see here are also available as travel mugs or in other styles. And of course you can easily create your own mug, so get inspired:
left:
Best Coffee In Town Mug
by
sunnysites
Spread the word: the best coffee in town! A cute and charming mug, great to give! (and since you can adjust the text, you can also give it to a hot chocolate lover!)
right:
Tropical Bird Christmas Mug
by
sunnysites
A starry and colorful Christmas design mug with a tropical touch! :-) A great gift for the Holidays!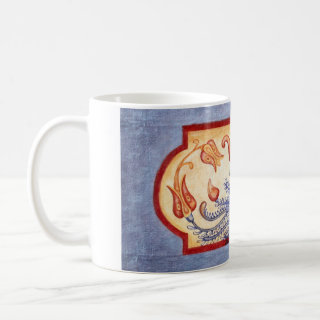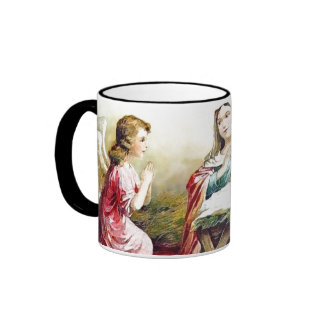 left:
Tulips Art Mug
by
KMuellerGriffithArt
This is an original acrylic painting of Tulips by artist Kristine Mueller Griffith. These stylized tulips were inspired by Pennsylvania Dutch tulip art.
right:
Stein, Mug, Cup, Mary and Baby Jesus and Angels
by
Zurine
Mary and Baby Jesus and Angels on beautiful vintage artwork. Warm Holiday Blessings on your choice of mug styles and colors. Great Gifts for inspiration, prayers, faith, and Christmas.
left:
Black Coffee Mug
by
sunnysites
An exclusive coffee mug for those who prefer their coffee black!
right:
Artistic Christmas Fantasy Tree Personal Mug
by
annevisdesign
Mug with original fractal fantasy Christmas tree: a cheerful Christmas gift. You can customize the text and also name it "Merry Christmas" for instance.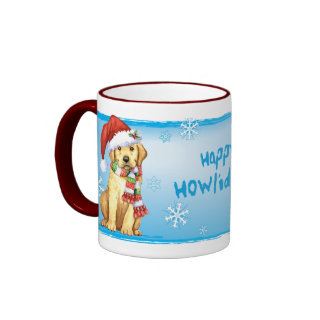 left:
Happy Howliday Yellow Lab Mugs
by
DogsInk
Celebrate the holiday season with a cute Yellow Labrador Retriever puppy wearing a Santa hat and scarf amid snowflakes and the words, Happy Howlidays! Great holiday gift idea for Yellow Lab-loving family and friends.
right:
Monarch Butterfly Mug
by
EveryoneLovesaParade
A beautiful butterfly mug.
left:
Festive Flowers Mug
by
annevisdesign
A beautiful floral design mug with original fractal flowers in festive colors.
right:
Blue Bows Mug
by
Goosebury
This pretty design features gradient blue bows on white. Surrounding the bows are tear drop shapes in dark gray and white.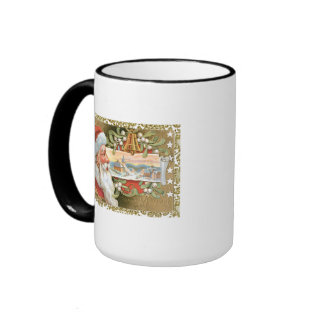 left:
Santa Mug
by
ohbob12
A beautiful picture of Santa looking at a village.
right:
Windy Wash Day | Cat Mug
by
LisaMarieArt
Cute cat themed mug featuring a reproduction of an original painting by Lisa Marie Robinson. — A black and white kitty struggles to keep up right on a windy laundry day.
left:
Coppertone & Black Maroccan Trellis - Quatrefoil Mugs
by
eprocentteam
Coppertone & Black Maroccan Trellis - Quatrefoil Clover Pattern.
right:
Autumn Canada Geese in flight Mugs
by
lionstigersandbears
Flock of Autumn Canada Geese in flight.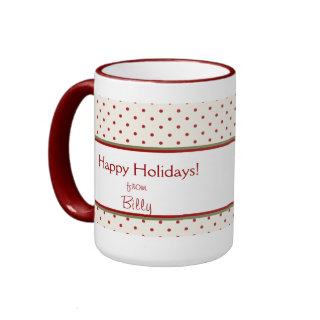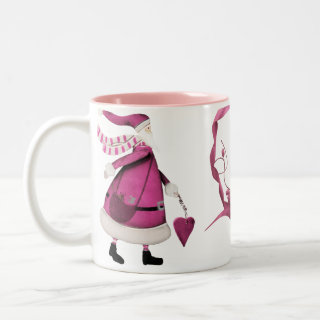 left:
Candy Cane Photo Christmas Mug
by
apassion4pixels
Fun and festive design with room for your treasured photo as well as customized text! Frame has candy cane pattern with decorative border spray of Christmas greenery, poinsettia and bells with banner for personalization on a red polka dot background.
right:
Whimsical Pink Santas & Heart Ribbon Personalized Coffee Mugs
by
GroovyGraphics
Pretty pink two tone mug with two cute whimsical pink vintage Santa Claus and a beautiful pink heart shaped ribbon with flower ornament for you to personalize. Women and girls of all ages will love this adorable romantic festive holiday mug.
You may also like a previous post with customizable artistic mugs!