Join in the trend this year: send Christmas cards with your family picture or a picture of your dog or cat, baby, wedding picture or anything you fancy! Today I selected some design cards for you that can be customized with a picture of your own choice. At the end of the post you find a link to a previous post with traditional sized Christmas cards, should you prefer that.
left:
Merry Christmas Customizable Photo Card
by
sunnysites
Elegant Christmas card with the option to add your own picture. You can also delete the text image if you prefer another text. Happy Holidays!
right:
Ornaments and Snowflakes Christmas Photo card
by
BlossomCards
Beautiful ornaments and snowflakes in gradient blue and white background.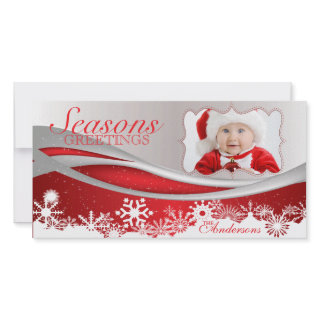 left:
Classic, festive holiday photo card
by
littlemrs
Share your beautiful family with your loved ones this holiday season.
right:
Skating Penguin Holiday Photo Card
by
Flowerbox_Greetings
Spread some joy with our cheerful skating penguin, on a holiday photo card. Features a fun winter scene, with plenty of room for your Christmas message. Customizable.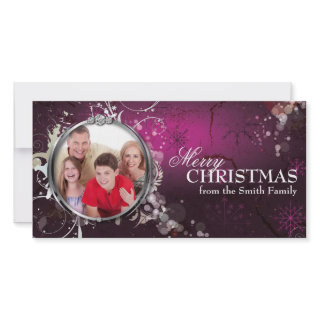 left:
Classy Christmas Photo Card
by
colourfuldesigns
Classy Christmas Photo Card - Created by Colourful Designs Inc. Copyright 2012. All text and template photo can be modified!
right:
Bold Beautiful Merry Christmas Holiday Photo Card
by
OLPamPam
Celebrate the holidays with this stunning gorgeous pink, black, and white Merry Christmas holiday photo card. This beautiful card features a vintage cracked background with a classy silver frame with diamonds featuring your family photo. The frame has some grunge elements coming from behind it with paint splatters, floral swirls, and fun lighting effects. The background has twinkling stars and snowflakes. This photo card design offers professional looking photo cards at an inexpensive cost.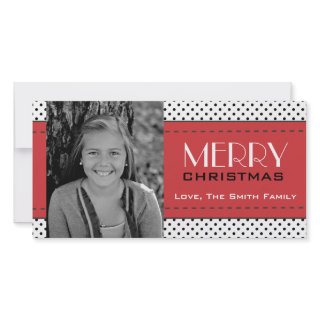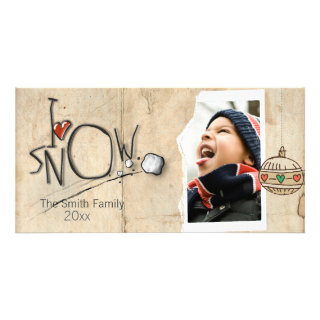 left:
Red and White Polka Dots Personalized Photo Card
by
ChicGreekBoutique
Design By Christy A. Leonard © 2011.
right:
Simple black and white photo card
by
sketchbook39
A fun and creative Christmas card!
left:
Holiday Photo Card | Peace and Joy in Red
by
Plush_Paper
A stylish and contemporary photo greeting card features a vertical format, "Peace and Joy" in an decorative script font, and a pattern of diagonal stripes border. Colors: bright tangerine red / orange and white.
right:
Glowing Tree & Colorful Holiday Greeting Custom Photo Card
by
GAZoomIn
Add your photo and text to this fun card. A modern elegant Christmas Tree design with a glowing star. Cheerful and festive colors. The perfect greeting for you family and friends.
You may also like to look at a previous post with Christmas cards
On sale now:
50% off!
Enter code:
CHEERSAVINGS
at checkout in the "Zazzle Coupons/Gift Certificates" box 50% of the card, invitation, postcard, and/or photo card net sale price will be deducted when one or more qualifying products are purchased and the coupon code CHEERSAVINGS is applied at checkout. The net sale price is the price of the product (excluding shipping and taxes). Offer is valid through November 4, 2012. This offer does not apply to past purchases and may not be combined with any other Zazzle promotional or volume discount offers. If a volume discount applies to your order, you will receive either the discount set forth in this offer or the standard volume discount, whichever is greater. Offer valid on Zazzle.com only.