Polka dots are still "hot" and trendy! And so is pink as well as girly. So today I selected some gifts for you that combine those qualities ... time to add sweetness to life!
left:
Minnie Mouse pink polka-dot dress waving dancing Postage Stamps
by
disney
Minnie Mouse pink polka-dot dress waving dancing.
right:
Paris Pink Polka Dots Name Kindle Fire Case Kindle Folio Cases
by
expressyoursoul
A polka dot background embellished with a white ribbon-look strip and the Eiffel Tower icon on this Kindle Fire Case ready for you to personalize.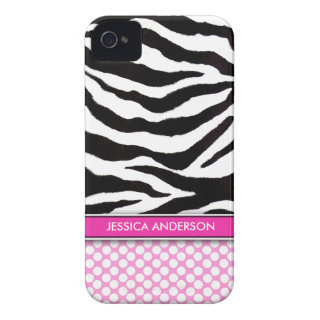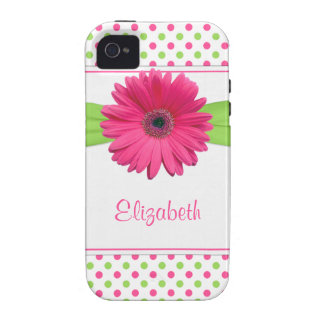 left:
Pink Polka Dot Zebra Stripe iPhone 4 Case-Mate
by
koncepts
This sassy, Barely There case for your iPhone 4 is super fun and flirty, with a mix of stylish black and white zebra stripes and pretty pink polka dots. This chic, trendy, designer case is ready to personalize with your name too!
right:
Pink Green Polka Dot Gerbera Daisy iPhone 4 Case
by
wasootch
Change the name on this pink and green polka dots pink gerber daisy personalized iPhone 4 or 4s Case-Mate Vibe (casemate) case. Add some cute girly style to your iPhone 4.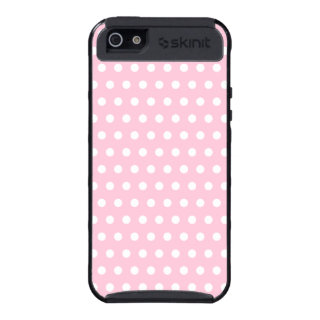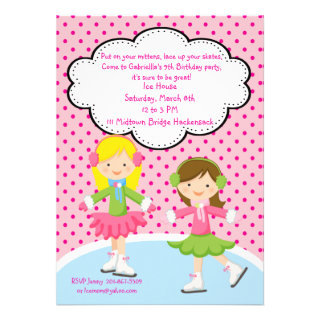 left:
Pink and White Polka Dots Pattern. Cases For iPhone 5
by
Graphics_By_Metarla
A spotty pattern in pink and white.
right:
Adorable Girls Ice Skating Birthday Invitation
by
kidsgalore
Get ready to skate! If you're having an ice skating party this invite is perfect for you. It has a light blue pond on the bottom with an adorable blonde haired girl standing on the ice wearing a pink tutu and her ice skates. Also there's a girl with long brown hair wearing a green tutu. There's a light pink background with darker small polka dots. This is a great invite for twins or just two sisters sharing a birthday party. ©JW Illustrations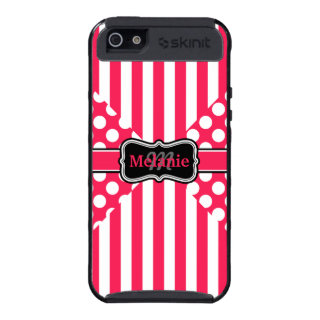 left:
Chic Polka Dots Stripes Pink White iPhone 5 Cases
by
DoodlesGiftShop
Cute polka dot and stripes pattern design with customizable nameplate for your custom name and monogram. This trendy polka dot pattern girly gift comes features the fun and funky color palette hot pink, black and white. A cool gift for a girls birthday or as a Christmas present for the lady who loves monogrammed gifts and name personalization.
right:
Bubblegum Pink Polka-Dots Personalized Tag For Bags
by
BudgetPatterns
Personalize this with your name, text or monogram. Polkadots pattern in Bubblegum Pink a shade of mauve on Azalea Pink. Cute dots, low price, a great gift or buy for home and fashion.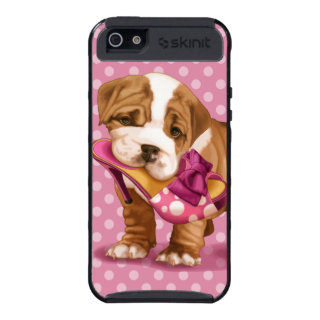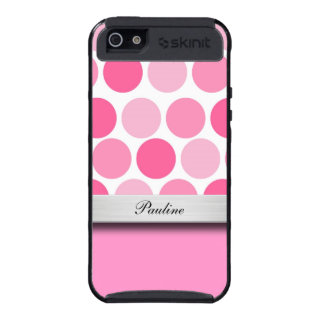 left:
English bulldog and shoe iPhone 5 cover
by
MarylineCazenave
Gorgeous english bulldog with pink bow shoe in its mouth painted by artist Maryline Cazenave.
right:
iPhone 5 Monogram Case iPhone 5 Covers
by
idesigncafe
Custom monogram iPhone 5 cases with polka dots pattern will protect your phone in style! Personalize it by adding your name, initials, or message to the monogram space or change the background color. Designed for ladies or teenage girls who are looking for a stylish cell phone cover that will protect and show off your mobile phone in style. Has openings for all ports and connections.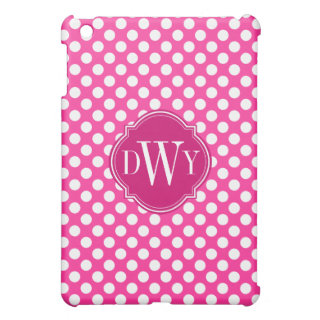 left:
Pink and White Polka Dot Pattern Monogram iPad Mini Cases
by
SocialiteDesigns
© 2012 Socialite Designs. Our pink and white polka-dot pattern iPad Mini case provides a fun splash of color as well as protecting your iPad. Our elegant banner is a perfect place to add your monogram, name or initials. Just replace our template text with your own.
right:
Funky Knitting Grandma iPad Mini Case
by
sunnysites
Knitting is trendy and grandma is all into it! A funny iPad mini case! :-) You can add text if you like.