Today I selected a range of invitations with a vintage or age theme: anniversary, retirement, over the hill birthday or vintage style invitations. You can customize texts and in many cases also add your own picture. And of course a retirement invitation is oftentimes also great as birthday party invitation or ...
left:
Vintage Photo Frame Anniversary Invitation
by
sunnysites
A beautiful romantic vintage invitation card with the option to add your own picture! You can customize all texts.
right:
Vintage Paris Butterfly Birthday Party Invitation
by
sunnysites
Vintage birthday party invitation with the Eiffel Tower and butterflies. You can replace the painting of the lady on the swing with your own picture and you can also replace the invitation text image on the front with your own text.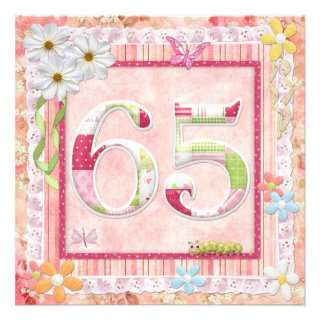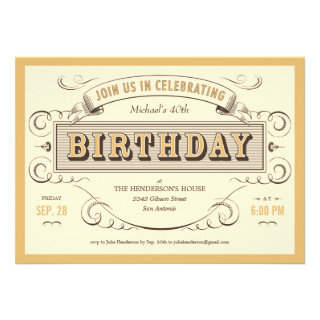 left:
65th birthday party scrapbooking style announcement
by
Eggznbeenz
Ribbons,bows butterflies and flowers. A birthday party invitation for your scrap-booking queen!
right:
Classic Vintage Birthday Invitations
by
UniqueInvites
Classic vintage birthday invitations with an elegant design that can customized for any age.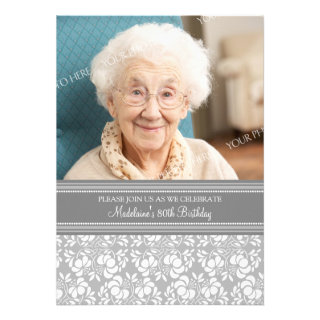 left:
Elegant Vintage Retirement Party Invitation
by
sunnysites
Vintage style invitation for a retirement party or birthday party.
You can customize the text and if you like, you can also add text on the back, or driving instructions for instance.
This card is also available in pink/mauve colors.
right:
Gray Damask Photo 80th Birthday Party Invitations
by
DreamingMindCards
Custom photo 80th Birthday party invitations in elegant grey, and white classic floral damask vintage pattern. Add your name, photo, and party details for a unique and stylish birthday party invitation.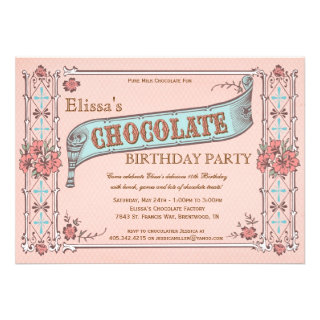 left:
Chocolate Party Invitation Vintage Chocolate Box
by
bnuteproductions
Here's the perfect invite for your chocolate lover-- a Chocolate Party Invitation inspired by vintage chocolate candy boxes. This invite is perfect for your next birthday party when someone sweet is ready to celebrate! An old textured background and a fanciful frame, and beautiful type, make this the perfect treat for your gathering.
right:
Vintage 50th Birthday Red Wine Black Gold Silver Custom Invitation
by
Zizzago
Elegant Vintage 50th Red Black Silver Metal Look Birthday Party Balloons Wine for any age. Men or Womens.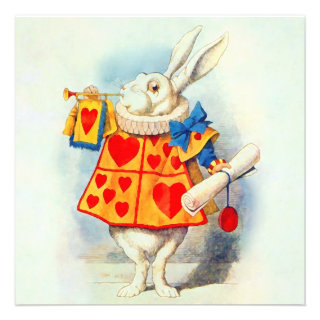 left:
Pink Vintage Birdcages Sweet Sixteen Invitation
by
misstallulah
Vintage illustrations of whimsical birdcages. This invitation is accented with pink and brown birds, flowers, leaves, foliage and other design details. Very feminine and elegant, perfect for a spring parties, outdoor parties, summer parties, garden parties and vintage and floral themed parties.
right:
Rabbit from Alice in Wonderland ~ Invitation
by
galleriaofart
Rabbit from Alice in Wonderland ~ Invitation
left:
Vintage Anniversary Party Invitation
by
sunnysites
A vintage romantic invitation card for an anniversary or romantic birthday.
right:
Vintage Roman Birthday or Retirement Invitation
by
sunnysites
Elegant birthday or retirement invitation in Roman style.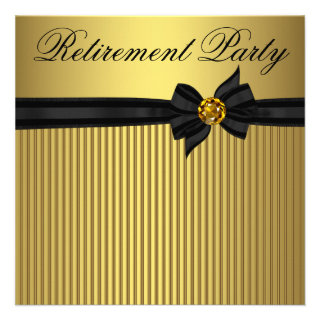 left:
Black Gold Bow Womans Retirement Party Custom Invite
by
CorporateCentral
Black and gold stripe jewel bow woman's retirement party invitation.
right:
Floral Ladies Purple Spring Tulip Retirement Party Card
by
Invitation_Invite
This custom ladies retirement invitation features floral nature photography of 2 beautiful spring purple tulips with a black background and light purple text. Great for a retiring florist, gardener or lady who loves tulips or flowers.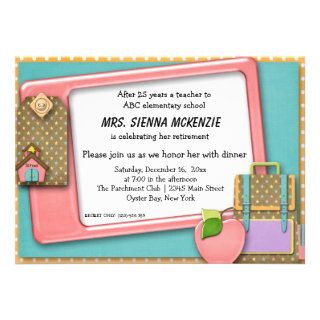 left:
Paradise Beach Personalized Announcements
by
Cocktail_Hour
I can feel the warmth of the beach sun! Customize it to suit your needs.
right:
School Event Custom Invitations
by
graphicdesign
Teacher retirement invitation.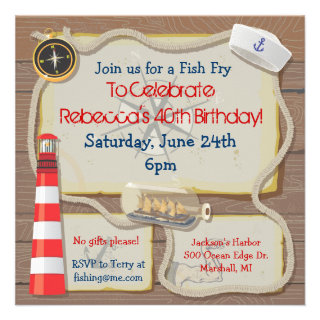 left:
Nautical Sailor Party Invitation
by
McBooboo
Awesome Nautical Sailor party invitation on old stained paper with a wooden textured background. Super nice detailed invitation with compass, sailor hat, ship in a bottle, lighthouse and rope. Faded painted sailor making a muscle on back, Great for a fish fry, retirement party ,kids birthday party or bachelorette party. Hand drawn Illustration by McBooboo.
right:
White Trailer Trash Party Invitations
by
McBooboo
Throw a trashy yet classy, trailer trash party with this awesome invitation. Impress your white trash friends with this highly detailed illustration of a run down trailer, trailer park sign with bullet holes, bad teeth, pink flamingo, beer bottles, banjo, and rebel flag all on a torn piece of congregated cardboard taped to a rustic wood plank wall. Hand drawn illustration by McBooboo.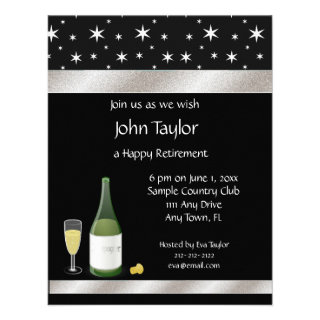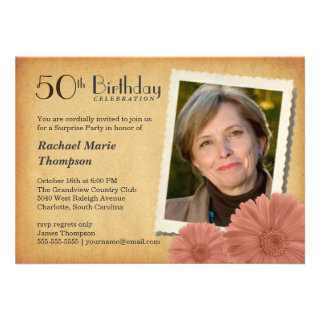 left:
Black and White Stars Retirement Party Invitation
by
Lilleaf
An elegant black invitation perfect for any man or woman retiring. It features white stars on top and graphics of silver ribbons at top and bottom. A picture of champagne and a glass sit in the bottom left corner. You customize all text.
right:
50th Birthday Vintage Daisy Photo Invitations
by
weddingtrendy
Beautiful 50th Birthday Party Invitations with framed photo insert on chic vintage retro simulated parchment background, and rustic country daisy accents. Perfect for casual and informal dinner, luncheon, cocktail, and stylish garden parties.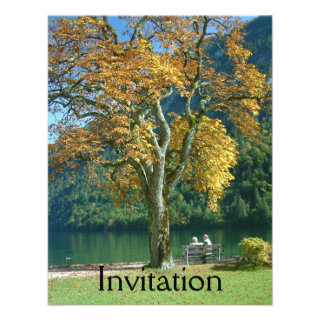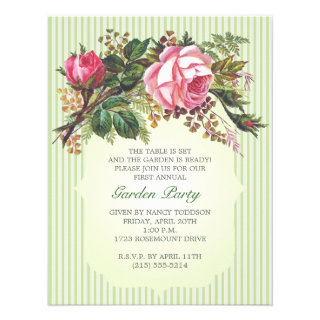 left:
Golden Tree Retirement Personalized Announcements
by
fotoplus
Senior citizens sitting under the tree.
right:
Vintage Rose Bouquet Garden Party Personalized Invitation
by
jardinsecret
Gorgeous vintage rose bouquet illustration on a light pink and pink stripes pattern background and vintage frame. Ideal for any formal occasion, such as adult birthday celebrations, formal dinners (cooperatives, retirement, promotional), book club meetings, garden parties and much more.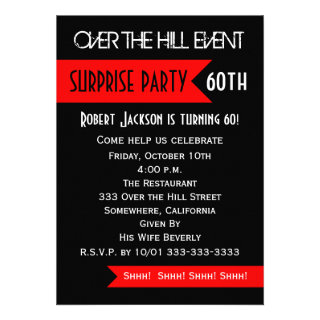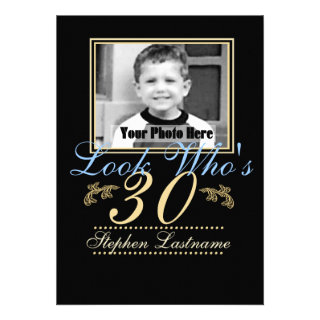 left:
Surprise 60th Birthday Party Invitation
by
henishouseofpaper
An ordinary 60th surprise birthday party invitation just won't do for you, so how about this unique design for an over the hill event. Of course, the invitation appears on black with red accents. The words "SURPRISE PARTY" are highlighted on red and the word "60TH" appears right beside it. Down below is a great place for all your 60th surprise birthday party invitation details. This modern typography invitation is a great way to invite your guests to a surprise 60th birthday celebration and is especially nice for men. Copyright henishouseofpaper.
right:
Look Who's 30 Photo Personalized Announcement
by
happygotimes
Look Who's Thirty photo frame birthday invitation. Upload a favorite photo of any age and customize text for your party.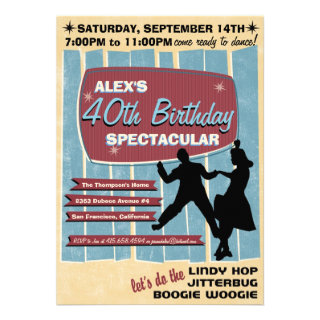 left:
40s Swing Dance Party Invitation
by
bnuteproductions
Swing on over to a 1940's style Party, filled with Big Band sounds and a dancing crowd! This retro style 40's Swing Dance Party invitation is the perfect look for your hip-happening party. Whether it's a birthday, anniversary or a wedding shower, this invite will have all your guests jitterbugging over for a swinging fun time!
right:
Vintage rose bridal shower invitations
by
Past_Impressions
An arching spray of vintage creamy white roses with blush pink and yellow shading, and bronze green leaves, on a pale cream background, with a matching monogram initial to change. The roses were painted in an art nouveau style by artist Ellen Clapsaddle for a wedding album. This version has a mock gold border in varying shades of yellow.
You may also like a previous post with birthday party invitations!