Sweet and seductive: I'm talking chocolate of course!
Nothing has this reputation of comfort and sweetness more like chocolate and today I selected some gifts for you that convey that feeling of being loved (it does that, even though you can't actually eat the stuff presented here ...)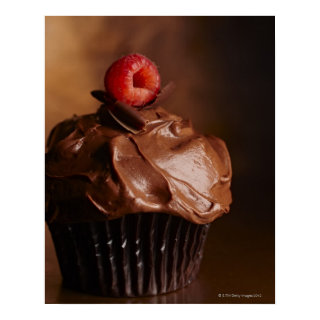 left:
Chocolate Cupcake with a Raspberry topping Posters
by
prophoto
Chocolate Cupcake with a Raspberry topping - Lew Robertson / Chocolate Cupcake with a Raspberry topping
In US German chocolate cake , originally known as German's chocolate cake , is a layered chocolate cake filled and topped with a coconut -pecan frosting. It owes its name to American Sam German, who developed a brand of dark baking chocolate used for the cake. Sweet baking chocolate is traditionally used for the chocolate flavor in the actual cake, but few recipes call for it today. The filling and/or topping is a caramel made with egg yolks and evaporated milk ; once the caramel is cooked, coconut and pecans are stirred in. Occasionally, a chocolate frosting is spread on the sides of the cake and piped around the circumference of the layers to hold in the filling. Maraschino cherries are occasionally added as a garnish.
Description above from the Wikipedia article.
right:
Hot Chocolate Cats Mug
by
annescats
Hot Chocolate Cats Mug - THE mug for both cat and chocolate lovers! :-)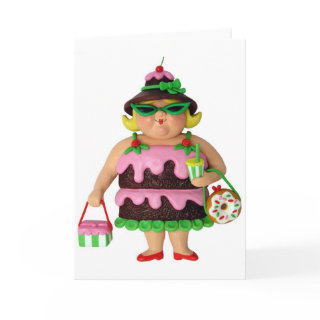 left:
Sweet Chocolate & Strawberry Birthday Card
by
sunnysites
A yummy birthday card featuring sweets, chocolate and strawberry cake with cream. A great card for anyone who loves chocolate and sweets!
You can customize or delete the texts.
right:
Cake Woman Cards
by
AmyVangsgard
Clay figure wearing cake dress made using polymer clay that is baked in an oven and painted with acrylics. The final product is photographed and digitally enhanced.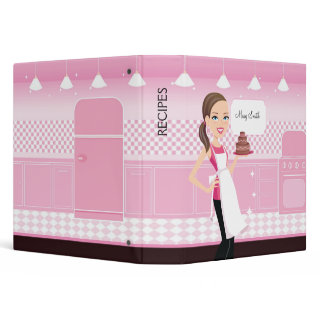 left:
Bakery Girl Recipe Binder Illustrated
by
ArtbyMonica
Illustrated bakery recipe binder with a detailed illustration of a beautiful brunette girl, holding a chocolate cake. Is easy to customize your name on the binder!
right:
Lilac/lavender/Chocolate cake, bakery Business Card
by
Create_Business_Card
Pixdezines Lilac/Lavender cake cards, an excellent design for any pastry chef or catering business.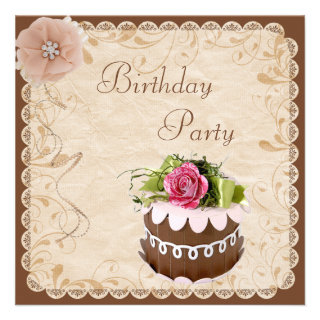 left:
Whimsical Bakery Business Card
by
JustCards
Whimsical bakery business card- green and yellow stars and stripes with a chocolate cupcake sitting in the center.
right:
Classy Chocolate Cake & Rose Birthday Party Custom Invites
by
AJ_Graphics
Elegant and stylish girly birthday party invitations with a beautiful chocolate cake with pink roses, a pretty pink digital fabric flower ornament with diamonds, pearls and ribbon on a classy beige / taupe background with lovely swirls and flourishes and a chic scalloped edge and dark brown border to match the cake. These classy invites are decorated both sides. Beautiful, chic, trendy, modern invitations with a vintage feel perfect for women and teenage girls.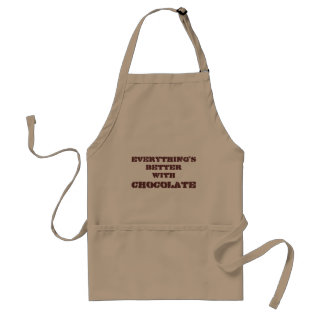 left:
Pink and Brown Polka Dots with Birthday Cake Personalized Invites
by
ArtformTheHeart
A pretty, girly party invitation for teenage girls with a chocolate brown and pale pastel pink polka dots pattern background. A delightful three tiered birthday cake with pink frosting and a selection of brown and white ribbons and bows sits atop a decorative cake stand to the bottom right hand corner. The reverse of this invitation has the same fun polka dot pattern.
right:
Everything's Better with Chocolate Apron
by
marshaliebl
An apron for the devoted chocoholic baker, male or female. Gift idea for the baker in your life.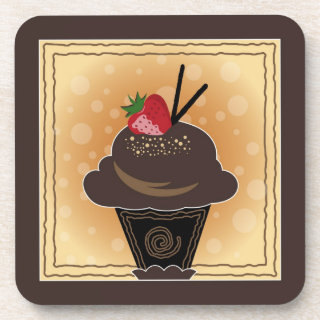 left:
Cupcake Stylish Cork Coaster
by
spice4you
Creative Stylish Cork Coaster Customizable Decor.
right:
Cupcake Trio Post Card
by
jaiart
Cupcake Trio Post Card.