Even though internet and computers are now mainstream, for your wedding you still want an old fashioned photo album! Today I selected some lovely romantic ones for you. You can also use them as a guestbook at the wedding or as a wedding planner or your anniversary pictures for instance ...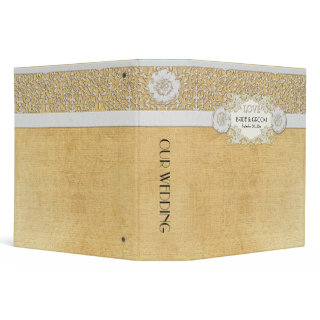 left:
Ivory Wedding Lace Binder
by
SweetRascal
This large 2" binder has room for all of your wedding planning needs in one place to keep you organized! Cover features a highly detailed flat graphic of Ivory Wedding Lace and large satin bow accented with metallic looking plaque with 2 swans, personalize with your wedding date. Also on the front add your names or your choice of text. Buy zip pockets to keep samples in of fabric, photo sheets to place all your clippings of dresses, decor and flowers. Makes a great keepsake!
right:
BOHO Burlap n Lace gypsy modern style Weddings Binders
by
ModernStylePaperie
Use this binder for a wedding guest book with matching paper set inside, or for a scrapbook binder or photo album - the binder comes empty so you can make it into anything you would like! This is a modern BOHO or Bohemian Style, gypsy inspired, trendy chic stylish look. It has a simple, clean yet lovely beauty. Created from vintage Victorian swirl lea and flower design ornaments that have been graphically hand transformed into an elegant beautiful, sophisticated lace trim border and gorgeous lacy central floral element. The laces are laid on top of a tea stained burlap textured background pattern.
left:
Romantic Green Jade Lace & Pearls Wedding Binder
by
AnnesWeddingBoutique
A romantic wedding picture binder with a picture of your wedding on the front (optional) and featuring a jade, pearl and lace printed ornaments. You can customize all texts. If you don't want a picture on the front, you can delete the framing image as well as the picture and you will see just the green cover.
Of course you can also use this binder for any other romantic purpose!
right:
Custom Green Floral Photo Wedding Album Binders
by
CowPieCreek
This custom wedding photo album features a green floral background with a green ribbon and a heart hanging from it and two white doves with a picture frame where you can add your own photo.
left:
White Peacocks Fairy Tale Wedding Binder
by
AnnesWeddingBoutique
A gorgeous romantic binder with a pink background and featuring two white peacocks. Perfect to store your wedding pictures.
right:
Elegant Roses Wedding Photo Album Binder
by
SassySues
Elegant Wedding Photo Album Binder. binder features a pink and white pastel colored background adorned with beautiful roses and wine glasses. Customize and personalize by adding or removing text and images.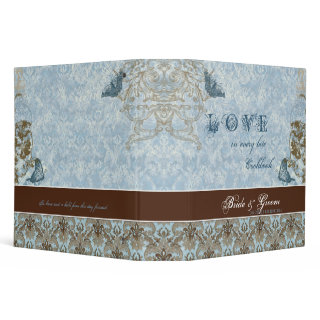 left:
Fleur di Lys Damask - Wedding Cookbook Binder
by
AudreyJeanne
COLOR PALETTE: light clear blue, chocolate brown, tan, latte, blue. This colorway will not match the aqua blue stationery page versions, select carefully! DESIGN COLLECTION: Perfect for a new bride. Gather your family's favorite recipes and make it a gift to be treasured for a lifetime. There are matching pages available to fill out the book. This elegant and sophisticated design blends the best of tradition and the freshness of the contemporary. The "Fleur dis Lys Damask" wedding ensemble has been created from original artwork by Audrey Jeanne Roberts. It features several elegant background damask patterns, original and vintage etchings and hand drawn butterflies.
right:
Romantic Wild Horses Wedding Album Vinyl Binder
by
AnnesWeddingBoutique
Wedding binder with wild horses in a winter landscape. A great gift for a wedding! You can customize or delete the texts.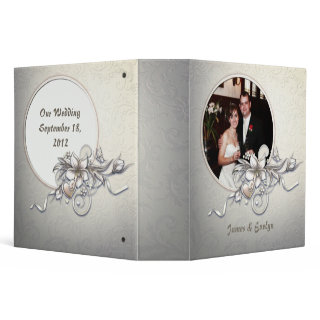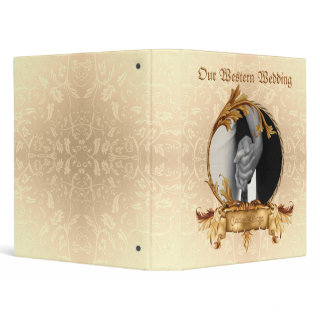 left:
Elegant Antique Ivory Wedding Binder
by
DizzyDebbie
Lovely custom wedding scrapbook / photo album binder done in a antique like Ivory paisley damask design. Graphics of ivory and pale pink flowers, hearts, and flourishes decorate the bottom of the large round photo slot. Names at the bottom, is fully customizable to read what you want. The back of the binder has the same background as the front, with text instead of photo, in the round frame. Personalize this beautiful album with your own photographs and text.
right:
Western Wedding Photo Album Scrapbook Binders
by
RanchLady
This great Western Wedding Binder is customizable: upload your own photo, and change the names on the cover. You can even change it from a Wedding Photo Album to a Wedding Guestbook by just changing the wording on the front.
You may also like a previous post with:
40 fabulous binders and
binders as versatile gift for all times.