If you are planning your wedding, you may look at the current fashion for weddings.
And up to a certain level this can be inspiring. Yet, in the end it is YOUR day, so my recommendation would be to choose from the heart! (Isn't that what the wedding is about in the first place?)
Trends for weddings go in sync with the trends in society as a whole. I have chosen to present just the examples from invitations here, as I do not design dresses (which of course are a center piece, from which you derive the entire atmosphere for your wedding).
Atmosphere is key, so you want to choose a theme that is in line with the atmosphere you would like to create.
So what is hot for 2013?
Love Birds and Animal Themed Weddings
All animals are becoming increasingly more popular. This is related to our trends in returning to nature and finding "our tribe". The shaman wedding and the country wedding also fit in this trend.
In 2013 you will find more and more romantic bird designs. Be sure you choose one in which there are no images of cages, as they may inadvertently invite the energy of "being trapped" or "locked up". Your animal needs to be free and loving!
As you can see there is also a lot of romance involved in the love birds trend. And especially the peacock is very popular this year!
Country Themed Weddings
This one is closely related to the previous one, in that a lot of people are returning to the country side for a flare of the "good life" and nostalgia and dreams of a more "simple" life and more connection to nature. You will see weddings in barns and on various locations in the country side. If you feel attracted to a country wedding, you may want to approach a wine farm to inquire about hosting your wedding party in 2013. To enhance the feeling of togetherness you will even find an increase in line dances!
As you can see from these examples, the choice of design will also depend on the location and season your wedding party is going to take place in. Seasonal invitations will remain popular in 2013.
Pearl Themed Weddings
Yes, I know it may sound strange, but pearls are actually a symbol of wisdom and this year we are looking for the wisdom that is already here: with us! The pearl is guarding this inner wisdom. It may also reflect a trend for older couples to get married, even at ages of 70 and up.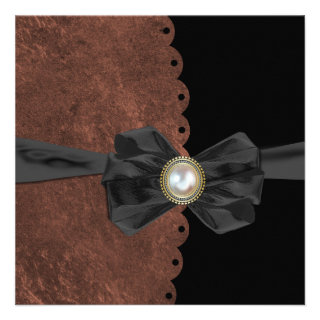 You can see the theme of vintage has some effect here too, as wisdom and age go hand in hand with vintage. However, you will see the popularity of vintage decline and we will actually go back to our own time and make a place for ourselves to feel at home.
Beach and Travel Themed Weddings
Hawaii and Paris are famous wedding destinations, to name just a few. In general, any design with a reference to Paris or the Eiffel Tower has been very popular in the past year. Unless you are actually getting married in Paris, you may want to think again about naming a remote town as center piece of your wedding. It may create a feeling of alienation, whereas most people want to emphasize the joy of being together in marriage.
With the "crisis" (I'm sure you are fed up with the word as well as it's daily reality), travel will be close to home. Yet, always continue to dream!
Metallic and Art Deco Style Weddings
Metals are becoming increasingly precious and I am not just referring to gold or silver. It's shine and glitter give allure to a wedding. Of course this theme is also inviting your own input and creativity, which makes it perfect for a personal touch.
As you can see here, this trend can be mixed with flowers and is also open to a variety of colors. The flowers have been at the background this past year, but will return towards the end of 2013 and well into 2014. Fun with the invitations presented here, is that you can add your own picture in the center frame!
Metals are also great for anniversary celebrations.
Patterned and Mint Green Weddings
The general trend of chevron zigzags and mint green are also extending into the area of weddings. As far as chevron goes: if you envision your marriage to be over within a year, this might be good option. Another problem with the chevron stripes is that they are very temporarily popular and will look outdated very soon. Mint green is also a difficult one: it is trendy, yet it is cool in the sense of having no warmth in itself. In the example below you can see how it still looks "chic" and thus attractive (exceptional I would say!).
Another other trend is damask (still). I would say it is classic and classy. Perfect for those looking for a traditional and chic marriage!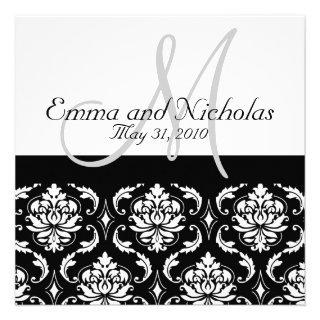 As you can see from the above examples, also the use of one initial is popular and will be for the first months of 2013.
I hope these thoughts are inspiring for you in deciding which style to choose for your wedding! Thanks for your time and wishing you a delightful wedding day and fulfilling marriage!