OK, let's face it: for cats Halloween is probably the best time of year ... although maybe topped by World Knor Day, which is also this month: October 4.
But on Halloween everyone expects them to be naughty, play out their cat tricks and of course: they get away with the treats!
Today I have selected a few cat gifts and stationery to celebrate our feline furry purry friends (with an emphasis on the naughty side :-)), by
annescats
: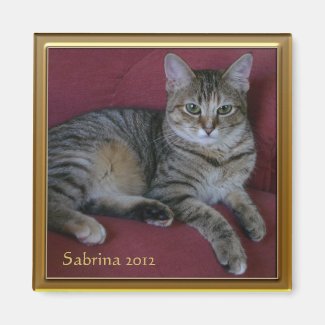 left:
Halloween Party Invitation
An artistic and fun Halloween Party invitation with a haunted house and the cat on guard with illuminating eyes ... :-)
right:
Cat Memorial Photo Frame Magnet
A customizable photo frame magnet. Set as a memorial cat magnet, but of course you can place any picture of your choice to make a personal (cat) gift!
left:
Cute Colorful Cat Magnet
The morning after is not always so easy ... :-) A humorous and colorful cat magnet.
right:
Chagrin Cat Halloween Card
Chagrin Halloween cat card ...
left:
Spooky Halloween Party Invitation
A green and magic cat Halloween party invitation with a wicked witch
right:
Halloween Party Invitation Card
Cute Halloween party invitation with two cats and a witch and a haunted castle
left:
Cute Chocolate Cats Wallet
Chocolate is considered a sin by some of us, but who doesn't love it? This wallet is a purrfect gift for someone who loves cats and chocolate!
right:
Haunted Castle Halloween Party Invitation
A scary Halloween party invitation with a skeleton and all the usual suspects ... :-) (with cat of course!)
left:
Surreal Cats Calendar
Cat art calendar for 2014 with surreal, humorous and colorful cats for every month.
right:
The Secret Lives of Cats in Amsterdam Calendar
Calendar with cats in the heart of Amsterdam ... with a wink to the Red Light District ... :-)
A lovely way to get to know the friendly and delightful inhabitants of De Jordaan, the old city heart of Amsterdam!