As fall is approaching and everyone is returning from vacationing, it is time to go back to work as well as find some new and inspiring classes. So if you are a teacher, this is the time to spring into action and advertise your classes. In this post I am presenting a couple of different business cards for teaching professionals in a variation of expertises. Several of them are targeted to the hobby and leisure businesses.
All business cards are available through Zazzle, which means you can customize texts, add your own text and photos!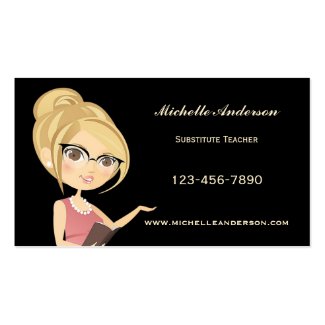 left:
Tutor Teacher Education Business Card
A cute female teacher cartoon business card, suitable for all theory classes given by a woman.
right:
Cooking Teacher Business Card
This cooking teacher business card is set for the Spanish cuisine, and can be customized for any cooking style that focuses on main dishes or appetizers as long as they are not desserts or sweets.
left:
Cute Italian Cooking Classes Business Card
She's offering a pizza, as most popular dish from the Italian kitchen. Perfect for a fun home style Italian cooking class.
right:
Modern Blue Leopard Business Appointment Card Business Cards
A lot of people return to the gym after their holidays and what better time than this to promote your fitness classes? You can customize the text to fit your needs, depending on whether you give individual sessions or teach group lessons as well.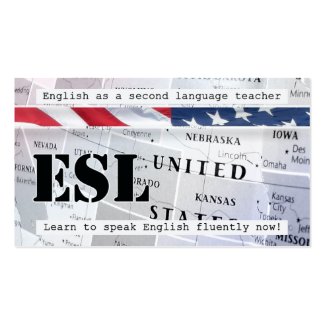 left:
Yoga & TRE Instructor or Teacher Business Card
Another cartoon style business card for body oriented classes. This one is great for a teacher in yoga or stretching and can also be used for TRE instructors (Tension Release Exercises)
right:
English as a Second Language Business Card
Many migrants want to improve their English or start learning the English language. This card is targeted at the US, with a map of the US in the background and the colors of the flag reflected in the design of this business card.
left:
French Language and Culture Teacher Business Card
This business card features the Notre Dame in Paris as symbol for France and the French language. You can use it for any cultural teaching related to France or as a promotion for your French language classes.
right:
Ballet Dance Business Card
An romantic and elegant business card for a ballet teacher.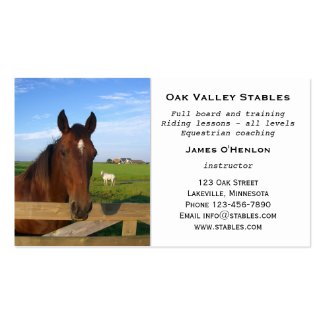 left:
Oriental or Belly Dance Business Card
If you are a belly dancer or a professional dancer in other oriental dancing styles that you teach to others, this may be just the business card for you. The warm colors and creative style fit nicely with the Middle Eastern atmosphere.
right:
Stables Horse Riding Lessons Business Card
A horse themed business card for a stable or ranch. Perfect if you are teaching horse riding lessons or other horse related activities, like equestrian coaching.
left:
Guitar Lessons Appointment Card
Scientific research has shown that learning to play a musical instrument improves brain functioning. This business card is targeted towards those who would like to play the guitar.
right:
Ballet and Modern Dance Instructor Business Card
Ballet has a romantic image, and therefore speaks very much to young girls. The soft blushed pink in this card enhance the love of elegance and can be used for dancing lessons of any age.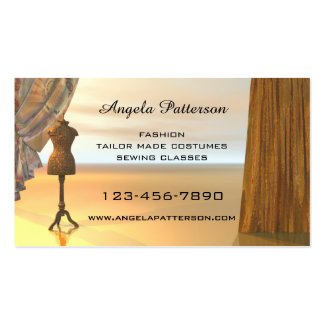 left:
Fashion Sewing Classes Business Card
A stylish and modern fashion inspired business card. Great if you are working in the fashion industry or are teaching sewing classes.
right:
North Star Astrologer Business Card
A business card with the astrologic clock for an astrologer - also great if you give lessons in astrology.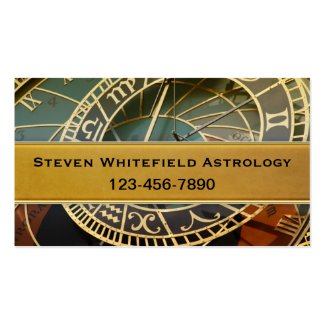 left:
Professional Astrologer Business Card
And another astrology business card (Uhm, yes, I have to admit that I love astrology, so I have a few more on my website!). Also easy to customize for a teacher in astrology.
right:
Professional Math Teacher Business Card
If you teach mathematics to children after school, this is the card for you!
Haven't found what you are looking for?
Check out a previous
post about business cards
.