Thanksgiving is almost here and today I have collected some inspiring items to brighten up the day.
Table Number Cards
Table number cards are great when you are having a large party and they add to the atmosphere:
left:
Gold Fall Leaves Table Number Card
right:
Fall Flower Thanksgiving Table Number Card
Table Runners
Celebrate Thanksgiving in style with these original table runners:
left:
Classic Still Life Table Runner
right:
Gourds Thanksgiving Fall Table Runner
Custom Paper Napkins
The finishing touch for your festive Thanksgiving dinner table: paper napkins: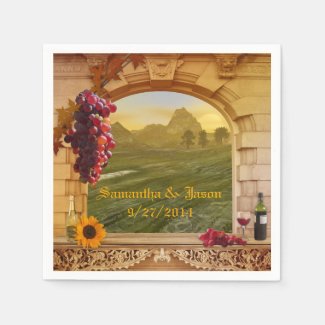 left:
Vineyard Wedding or Thanksgiving Paper Napkins
right:
Eat Drink Merry Gold Black Napkins
Custom Edible Thanksgiving Frosting
Finishing touch for your dessert: edible custom frosting:
left:
Gold Burgundy Thanksgiving Edible Frosting Sheets
right:
Thanksgiving Holidays Edible Frosting Rounds
Thanksgiving Recipe Binders
Your favorite Thanksgiving recipes deserve a beautiful binder:
left:
Rustic Turkey Sunflower Thanksgiving Recipe Binder
right:
Elegant Gold Photo Holiday Recipe Binder
Thanksgiving Cheese Boards
Nice with an appetizer or dessert are custom Thanksgiving cheese boards, also great as gifts:
left:
Romantic Fall (Wedding) Cheese Board
right:
Gold Fall Leaves Thanksgiving Cheese Board
Thanksgiving Cards
And a card to go with your gift or to send if you can't attend:
left:
Happy Thanksgiving Photo Frame Card
~ add your own photo inside!
right:
Golden Leaves Thanksgiving Postcard
Thanksgiving Postage
And postage:
left:
Happy Thanksgiving Postage Stamp
right:
Rustic Wood Sunflower Thanksgiving Postage Stamp
Thanksgiving Photo Frame Magnets
Keepsakes with photos of the family or for decoration:
left:
Pumpkins Thanksgiving Holidays Photo Frame Magnet
right:
Gold and Burgundy Striped Photo Frame Magnet
Thanksgiving Gift Tags
Beautiful for a special Thanksgiving gift:
left:
Rustic Wood Sunflower Thanksgiving Pack Of Gift Tags
right:
Colorful Fall Leaves Happy Thanksgiving Pack Of Gift Tags
You can find the
Thanksgiving menus
in the previous post.
Happy Thanksgiving!